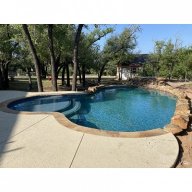 Jun 8, 2020
491
Pool Size

14060
Surface

Plaster
Chlorine

Salt Water Generator
SWG Type

Pentair Intellichlor IC-40
Maybe I'm testing my new pool too often, or is this common for the chlorine cylinder's markings to wear off this quickly?
On the left is the TF-100 cylinder for all the non-chlorine tests, and on the right is the TF-100 chlorine only cylinder. The pool was filled on Aug 28th, and I've been testing multiple times a day, as I learn my pool's cycle. So 9 days of testing on this cylinder.
My test process is to fill a 2-cup measuring container with pool water, and bring it inside. Then I have a 25ml syringe I use to extract water from the 2-cup container, and fill the appropriate graduated cylinders for each test. I fill the chlorine one to 10ml, drop in the speedstir pill, and test away.
I dry each component before putting it away as well.