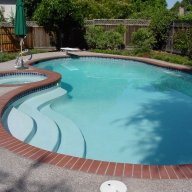 TFP Expert
LifeTime Supporter
May 3, 2007
13,857
Pool Size

20000
Surface

Plaster
Chlorine

Salt Water Generator
According to the manual, you cannot field cut these sheers.
Also, while a rock trap will trap rocks, it isn't likely that you will have large rocks in the lines if the PB is careful during the installation. The real risk is for debris smaller than the pump basket mesh that can get into the return lines. Those types of rain sheers have a finite hole diameter that may or may not be smaller than the pump basket mesh. However, I believe they come with a tool that allows you to clear them if they do clog but I am not sure you would want to rely upon that either.
Here are some posts of people that have had blockage and successfully cleared it:
I have two sheer descent waterfalls. Both operate from the same pump. There's is a T-junction that controls flow to each waterfall. One of the waterfalls is no longer spewing water. Even if I set the flow to the highest level and only to this waterfall, the water just trickles down against the...
www.troublefreepool.com
Hello. Recently, our waterfall (sheer descent type) is not flowing out evenly with gaps of no water on 2 areas so the other areas are spraying out more water and pressure. We tried using a thin tool (like a hacksaw) to probe anything clog inside but there was no resistance that we felt. Any...
www.troublefreepool.com
Adding filters will reduce the risk but not necessarily eliminate the risk as debris can get past when cleaning the filters or when damaged. But since the water is drawn from an MD, it is less likely to get debris in the lines than a skimmer would. It just depends on if you want to take the added risk operating without filters and hoping you can clear any clogs that may occur.