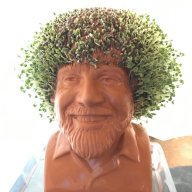 TFP Expert
Platinum Supporter
May 23, 2015
18,195
Pool Size

16000
Surface

Plaster
Chlorine

Salt Water Generator
SWG Type

Pentair Intellichlor IC-60
Mold? It's supposed to be a DRY heat here. My smoker is a mess now also, but I have a name for that--- seasoning!

It's on the list to do here to, probably before I use it again...
Mold grows wildly here in desert southwest and, because of the low humidity, can be far more problematic because mold spores can travel very far and wide.
My smoker was sealed up and dormant for too long and I left charcoal in it. The dome cover had finally started to fall apart after 7 years of sitting out in the hot AZ sun (gotta give BGE credit for making a cover that can last that long!) and I think with the winter rains there was just a sealed moist environment with plenty of old grease and so the mold had a very happy place to grow in. I've seen it mentioned that if you don't plan to use the smoker for a while, it's best to remove all spent charcoal, open the bottom vent and use some rolled up tin foil to create a "vent" in the top stack (if you use a vent cap instead of a chimney). That way there is good air flow to keep the interior dry.
Here it is all scraped clean. I decided to take the top dome off to remove the old seals and then I replaced them all with new seals. Right now it's sitting together but the band-clamp/lifter assembly isn't fully tighten up. When you put new seals on, they suggest letting the two halves sit on top of each other for 24 hours to give the adhesive time to cure.
Last edited: