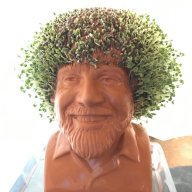 TFP Expert
Platinum Supporter
Shepherd's Pie
Rather than use lamb (because no one but me would eat it), I decided to grind up some chuck and bacon. Followed Alton Brown's recipe and then channeled my inner-
@bdavis466
and troweled the mashed potatoes on nice and thick. It would have been cool to sculpt it into a wooden texture, but I'm not the artist Brian is....my sculpture would probably be NSFW ....
Kid's got a fun treat on the way to school this morning - a hot air balloon was hovering over the campus!!
They totally want to go on a balloon ride but the operators around here charge upwards of $200/person per hour....I'm like, "Can we just go up for a minute and then down ?‍
"....