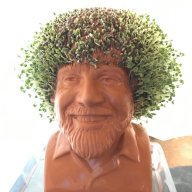 TFP Expert
Platinum Supporter
My kid loves fresh figs. My dad got him into them. I have a patient who has 10 different varieties in dog pots with wheels. In the winter she keeps her car outside and the trees in the garage. Lol They r beautiful trees. Lots of pruning she said.
When we were in Da' Bronx, there was a guy up the road from our apartment building with a tall wall all around his house. But, every spring he'd roll out a dozen or more 15 gallon buckets into his front yard with fig trees in them. All summer long I'd walk past his house and see these huge fig trees FULL of figs and think to myself "if I could only reach over the wall...". But better senses prevailed as I'm sure he, like everyone else in that neighborhood, was old school Italian and very likely Mafioso .... I would probably have lost my hand if I stole a fig....
They are....or should I say, WERE delicious!! Sweet as candy. I can't wait for the rest of them to ripen.