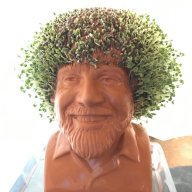 TFP Expert
Platinum Supporter
May 23, 2015
21,788
Pool Size

16000
Surface

Plaster
Chlorine

Salt Water Generator
SWG Type

Pentair Intellichlor IC-60
Wahoo a la Scampi with Risotto
So a work colleague of my wife's is an older gentlemen near retirement age and he enjoys working part time and then spends 2 weeks per month down in Rocky Point, Mexico. He co-owns a fishing boat down there where he and his partner will hire a few local guys and go out on 10-day deep sea fishing trips. The boat has all the vacuum packing and flash-freezing equipment on board so all they do for 10 days is float around the Gulf of California, catch and prep fish and then bring their haul in. I suppose they sell most of it wholesale to local restaurants since Rocky Point and the surrounding area is a major tourist attraction for Americans looking to visit a nice resort town; it's less than a four hour drive from Tucson.
Anyway, John gave us two thick filets of
Wahoo
, which is apparently a prized sporting fish and very dangerous to catch (I believe when it's hauled onto the boat you have to beat it to death with clubs and gaffing poles or else it will attack...). In Hawaii, the fish is referred to as
Ono
but, given it's violent nature when captured, I suspect most people would call it the "
OhSheet
" fish as everyone screams "
Oh S _ _ T!!
" when it hits the deck.
Here it is thawing in my sink -
So I decided the night's dinner will be grilled Wahoo with scampi sauce and risotto. The risotto comes first -
I've got 2 cups of Italian risotto with about a half cup of finely chopped onion and about 6 cups of liquid (chicken broth). I use a heavy cast iron pan when making risotto because the cast iron holds heat the best which is critical for slowly cooking the risotto. And here's the thing about risotto -there is no such thing as "fast" risotto! You can only make risotto slowly and so expect to stand in front of the stove for a good 45mins at least.
Start off by sautéing the onions in olive oil and, when softened, add the rice to brown it a bit -
Once the rice is starting to get translucent and a little browned, start adding the liquid. You add 1 cup of liquid and stir...and stir.....and stir. You cook the rice very slowly so the liquid should be just barely simmering. The point is for the liquid to be slowly absorbed by the rice. Once the first cup of liquid is absorbed and the rice is starting to separate, you add the next cup.
You keep doing this slow cook until all of the liquid is used. The trick to risotto is to never let it "burn" to the bottom of the pan and so that is why you are constantly stirring it and scraping the bottom of the pan. If the rice starts to stick to the pan, add more liquid. What I also do is put my oven on warm (which is like ~160F) and, when I add the last cup of liquid I cook it off about half way then add 2-3 tablespoons of butter and, in this case, a couple of stands of saffron. The end result looks like this -
I then put a heavy lid on the pan and put the entire pan in my warm oven. The low heat will let the risotto absorb the rest of the liquid while the butter will create a creamy sauce around the rice. Add whatever amount of salt and pepper you like to taste.
While the risotto was being cooked, I had thawed the wahoo and coated it with a little lemon juice, olive oil, sea salt and pepper and had it sitting in the fridge. My next step was to grille up the fish to an internal temperature of about 130F and then bring it in the house and put it into the warm oven while I made the scampi sauce. Here's the completed grilled wahoo -
Scampi is stupid-simple to make - half of fresh lemon juiced, 2/3 cup of white wine, olive oil, butter and GARLIC....lots and lots of garlic. I like to chop my garlic fresh from the bulb and into big chunks. You can use pre-minced garlic but I find it lacks a lot of flavor. So here's the garlic being browned in my coated, cast-iron pan with olive oil -
Add LOTS of butter -
Now the wine and lemon juice -
I then add the scampi sauce to the pyrex dish with my grilled fish and top with fresh chopped Italian parsley and some finely diced Roma tomato -
Finally, dish it out and
buon appetito!!