I've been lurking here for a long time and it is finally time for me to renovate my existing pool. This will be a DIY renovation and trying to stay on a small budget.
The pool was built in 1980. It is a free form "disney" shaped pool. It is currently 3.5' in the shallow end and 8' deep in the deep end. The pool originally had a diving board but was removed a long time ago due to insurance requirements.
Average width is about 14' wide and pool is 30' long.
My Plan Overview:
1. Replace existing skimmer
2. Install auto fill and auto drain
3. Raise deep end depth to have more useable space.
4. Add Tanning Ledge.
5. Replace tile.
6. Resurface pool.
7. Rework equipment pad.
My Plan Elaborated:
1. Existing skimmer has some cracking in the throat area on the PVC. I believe this is an area where the pool slightly leaks from.
2. My existing skimmer has a very small opening currently (only about 3" height) I have always fought to keep the water level at the sweet spot. So I am looking to add a auto fill and auto overflow to be able to always have the pool at the right level.
3. One of the parts I hate the most about the pool is how little area there is in the shallow end. It slopes quickly from 3.5' to 8' and most of the pool is a depth that you can not stand up in. I am looking to make the slope less steep and make the lounging area of the pool larger.
The main drain will be raised to meet the new floor height. I am aiming for 5' water depth for the deep end.
4. This feature is still up in the air. I'm interested in adding a tanning shelf across the existing shallow end. Approximately 7' x 14' in size at a water depth of 15". I would add two umbrella holders in shelf if added.
5. All water line tile will be replaced. The existing tile is a 6"x6" bull nose tile. There is currently no coping installed. So a similar tile will be installed. The step edge tiles will not be replaced and instead a marking tile will be added.
6. The resurface will be sub contracted out to professionals. Planning on doing a quartz finish.
7. The current equipment plan is on a slab that isnt large enough to hold all the existing equipment (My DE filter is sitting off the side on a paver). The slab is soo low below grade that the incomming jandy valves handles are essentially under dirt most of the time. I plan on disconnecting and all the equipment and pouring a large 8" deep slab to get all the equipment high, dry and clean from the surrounding grade.
Existing Pool:
Area where the tile has already fallen off some:
Areas of tile separating from wall:
Skimmer Cracks:
Equipment Pad Area: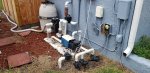 Last edited: