Unfortunately my 15' intex pool rusted out and needed to be taken down. I want to replace it with something bigger and better and I'd also like to plan to build a deck around part of the pool as well. I'm really struggling to figure out what size pool would be best, as well as figuring out what the deck should look like.
I'm planning to go with an intex XTR pool with a 52" depth and I'd like to go as large as possible. The ones I'm considering are the 32x16x52 or 24x12x52 rectangular and the 24x52 round. I really like the 32x16x52 best, but I'm a bit afraid that it might be too much for my yard. The 24x12x52 might fit in the yard better but in the end that's not really considerably bigger than the 15' round pool I had and with the 12' sides I'm afraid that it may even feel smaller. The 24' round pool is an option too, but again I feel like it might be a bit too big for my yard.
Here are some pictures of the yard: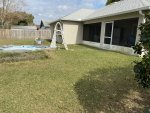 And here is a drawing of the back yard:
Right now I'm thinking that maybe a multi level deck would be good, starting at ground level outside the porch and working up to the pool level with the deck.
Something like one of these:
24' round
32x16 rectangular
But I'm not sure where I would divide the deck to make different levels and I'm not sure that it would really be big enough to warrant different levels. I'm afraid that instead of looking like two or three levels it will just look like oversized stairs.
I would appreciate any and all suggestions about pool size and position as well as deck design