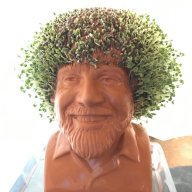 TFP Expert
Platinum Supporter
So I thought I would start this thread for the purposes of logging useful information and, perhaps, teaching others. I am currently doing a differential drain of my swimming pool whereby I am removing water from my deep end well using a submersible pump and some PVC plumbing while I am adding fill water to the skimmer. As this process is running, my pool pumps and automation system is completely shutdown for safety and water flow reasons. Note - this idea is NOT new nor do I claim any privilege over this process, it has been discussed in passing many times here on TFP.

The idea is simple - by removing colder and higher TDS water from the deep end, one can then add warmer, lower TDS water to the skimmer and the two layers should remain separated enough to effect an efficient drain of the water and closely approximate the results of a complete drain and refill. There are many reasons why a pool owner might want to do it this way but a significant reason is that here, in HOT Arizona, you cannot fully drain a plaster pool when the air temps are above 86F as damage can occur to the plaster surface. And, in Arizona, air temps consistently can get above 80F starting as early as March....heck, there have random days in January where the mercury has reached 75-80F.

Here's some shots of the setup

Deep end removal -


And flow meter -



Shallow end skimmer fill -



Skimmer fill flow meter -



Some info -

Deep end pump out flow - 22-23GPM

Skimmer fill flow rate - 5GPM

Water temperature of deep end well - 69F
Input Water temp from fill hose - 77.5F

You can look at my signature for my latest test results. I have a salt water pool with a nominal salinity of 3400ppm and currently my CH is around 1100ppm. So the pool water has very high TDS and it's about 8 deg F cooler than the input water. My hose fill water (softener shut off) has a pH of around 7.6-7.8, TA 100ppm and a CH of 180ppm (TH 200-220ppm). My end goal is to get about half the water out of my pool and lower my CH to less than 800ppm or better. While that's still about 2X the recommended level, I'll happily take that over where I was last year at an eye-popping 1500ppm CH.