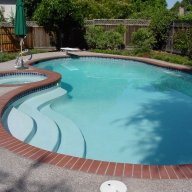 TFP Expert
LifeTime Supporter
May 3, 2007
14,735
Pool Size

20000
Surface

Plaster
Chlorine

Salt Water Generator
Every year I need to replace at least half of the pool water due to high calcium but this year, instead of a traditional drain and refill, I tried something different.
I had read of people doing an in place refill using plastic to separate the new water from the old water. So I thought to myself that perhaps the water would stay separated on it's own without the plastic as long as the water was introduced at one end of the pool and removed from the other plus remained fairly still during the process. There would probably be some migration but over all not that much so I decided to try it this year.
I plugged both skimmers and kept the deep end main drain as the only water source. I then used the hose to introduce water at the shallow end via the plugged skimmer backwards. Since I went to a two speed pump this year, I used low speed with some extra head loss, basically redirected all of the water through a long hose, to reduce the flow rate to be the same as the replace rate of the other hose (~7 GPM). I let this run for about 24 hours. The pool level seemed to stay fairly constant and still.
Afterwards, I tested the calcium level and sure enough it went down to the expected value. I think what may of helped as well is that I have a salt water pool and the salt water should have been both heavier and colder than the new water and stayed closer to the main drains. I was interested if anyone else had tried this method before and if they were successful. Obviously this wouldn't work for a 100% replacement but I figure I could probably replace most of the water this way.
Also, this could be useful for those with vinyl pools or worry about ground water raising the pool during a water replacement.
[Update 2017] - My last refill, I was able to replace close to 90% of the water without it mixing.
Reference:
Replacing water in-place process depends on several factors.
Pool Water TDS (PWTDS)
Pool Water Temperature (PWT)
Fill Water TDS (FWTDS)
Fill Water Temperature (FWT)
DeltaT = (PWT - PWTDS/165) - (FWT - FWTDS/165)
If DeltaT is positive, then you want to fill at the lowest point and extract at the surface and at the greatest distance from the lowest point.
If DeltaT is negative, then you want to extract at the lowest point and fill at the surface and at the greatest distance from the lowest point. <-Preferred as it is easier to do with a drain pump and you can fill inside one of the skimmers.
If |DeltaT| < 5, then there will be a lot of mixing.
This calculator is a bit more accurate than the approximations above:
Water Density Calculator
Last edited: