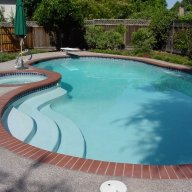 TFP Expert
LifeTime Supporter
Pedantically the wide spread advice all over the internet is that you require 1-2 turnovers is a general easy to understand concept that is not really that far from a practical generalization that could be applied to 80% of pools to provide good filtration support.
I don't believe it is anywhere close to 80%. The key word here is "require". Again, sanitation is required, filtration is not. What is required is enough run time to distribute chlorine throughout the pool. For manual dosing, that is only about 30 minutes for the average pool. For SWG pools with properly sized cells, that might be 2-4 hours. Plus with low speed of a two speed pump or a VS pump running on lower speeds, it will be a fraction of a turnover. In the winter, I average about 0.25 turnover per day and in the summer with solar running, about 0.5 turnover per day.
If you turnover your pool water once, then industry studies have shown 64% of your pool water will have gone through your filter. This will generally remove suspended particles from your water.
64% is a number based upon full mixing of the incoming water with the existing water. But in reality most pool owners point their returns to create surface patterns to help with skimming. This results in much more water returning back to the skimmer directly from the return which will result in a far lower filtration rates.
But again, any particles that remain suspended in water cannot be filtered out a standard pool filter. In order for particles to remain suspended in water, they need to be less than 2 microns. Everything else will sink to the bottom of the pool before it can be filtered out. So you are better off using a floor cleaner than longer run times.