Hi TFPers,
Thank you for such a great and informative site. I found it about a year ago but signed up yesterday since plans are coming together. Warning: This is a long post with many questions. I appreciate any insights. Photos included as bribery. Sorry about the formatting - learning the site.
Brief Intro
: I promised myself that when my trustworthy, reliable pool man retired I would demolish the pool. The week I learned he quit I called the demolition man who planned to stop by over the weekend. A few days before his visit the weather was perfect so I went out to trim bushes from inside the pool area. On my way out the gate the primordial soup on top of the pool cover whispered "drain me". As I was pushing the solids to one side walking around the covered coping I stepped through the pool cover smashing my foot & breaking my ankle against the shallow end step. A more detailed story is available upon request.
While committed to couch jail I realized that the pool needed to be opened for the summer quickly or else I'll have every Canada goose and bull frog moving in for the summer. The pool was opened and I have voluntarily enjoyed going into the big bathtub many times.
Reality strikes
: The pool was built in the late 80s and likely replastered in late 90s by 2nd owner who also applied some kind of goopy blue paint that rubbed off on the Polaris wheels and anything and one that contacted the surface. In 2004 the pool and I cemented our long term relationship. Over the years the Polaris swallowed bits and pieces of plaster; the pool separated from the coping - more severely on the side where I had 2 huge oak trees removed; and other "aesthetic" and likely functional issues continue to lurk beneath the surface.
During my couch incarceration I surveyed the female only community facebook group about whether to keep the pool or not. The first and almost instanteous response came from a real estate agent who echoed my thoughts that it will make it difficult to sell my house if and when I plan to move. To my shock the remaining 24 said keep it!
Decision
: If/when I sell the pool will either need to be renovated or demolished although both need to be done soon rather than later due to the continuing deterioriation of the plaster. The estimate for repair is $31K - prep work $2.4k; quartz plaster with blue &7k, removal of tile/new tile $5.4, removal coping/deck replace with travertine and concrete (cool deck coating) to fence line...
What I have learned from you and questions
: The estimate is sketchy so I studied tons of threads this weekend. I have changed my goal somewhat. My inclination is to do a state of the art budget repair so I can add a heater although I'm not sure how much that will cost yet. So here's my plan:
1. Plaster finish - What are the big differences between quartz (5 yr warranty) vs. marble (2 yr) finishes - longevity; application skill needed; pool chemistry perfection: etc.? I will require inorganic pigments and attach the detailed plastering guideline from TFP.
2. Coping - I would like a modern look. Any suggestions of type of material that could give that look, not too expensive, durable, not slippery.
3. Tile - I fell in love with glass mosaic tiles but TFP convinced me to minimize grout lines. I can forego the glass for glossy porcelain(?) and dress up the pool area with shi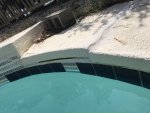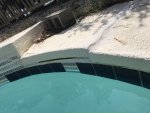 mmery decor instead. Any tile suggestions or other issues to be aware of ?
4. Water fill - What is meant by aggressive tap water?
5. Start- up issues - I assumed incorrectly from TFP that the PB would manage this. I will discuss this with PB. This PB has a pool service dept. Seems that I should have them do start-up and possibly ongoing maintence. Ideas?
6. Heater - Is this a pipe dream? Will I be able to cut pool costs to cover half a heater?
This is probably too much for one post. I'll stop now so I don't push anyone into the deep end!