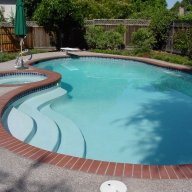 TFP Expert
LifeTime Supporter
May 3, 2007
13,952
Pool Size

20000
Surface

Plaster
Chlorine

Salt Water Generator
Re: Homemade Acid or Chlorine Injection System

Shwim, did you use full strength bleach in the tank?

Another option although not quite as attractive is to use more tanks or a larger tank and dilute the chlorine. This has two advantages. One is the chlorine is less subject to degradation and two, the formation of crystals may be somewhat reduced. You wouldn't need as many drip buttons either since flow rate would need to be higher for the diluted solution. However, I'm not sure how much dilution would be needed to eliminate the cyrstals.