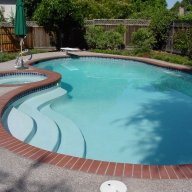 TFP Expert
LifeTime Supporter
May 3, 2007
15,586
Pool Size

20000
Surface

Plaster
Chlorine

Salt Water Generator
Having a plaster pool with a SWG and fill water with high PH and TA has meant a constant battle with rising PH. I have tried the borax route with lowered TA but because of the high TA fill water, I haven't had much success in lowering my acid use. So I decided to look into acid injection systems. HASA has one but it requires the liquidator and you are only suppose to use dry acid with it. A peristaltic pump was certainly one option but before I spent the money for that, I thought I would try making my own.
This concept can be used for chlorine as well but do not mix acid with the chlorine.
The concept I am presenting here uses the suction created by the pool pump to slowly draw a water:acid (or chlorine) solution from a supply tank. When designing this, I wanted to make sure I could control both the flow rate of the solution as well as the dilution ratio entering the plumbing system. Because the solution is entering at the pump, it is very important that the resulting mix is significantly diluted so as not to lower the PH or TA enough to cause damage to any of the equipment (i.e. corrosive water). Please do not attempt this unless you are comfortable with some DIY experimentation and willing to tinker with the dilution to make sure you get it right.
Warnings:

This setup should only be used on those pools that have chronicly high PH and predictable acid dosing. There is a chance of overdosing the pool with acid so it is best used on those pools that experience rising PH. Ignore this for chlorine injection.

If you have an above ground pool or an inground pool that is much higher than the pad, a check valve will probably be required to prevent backflow. An all plastic aquarium valve can be used or something like this. Also, with these same conditions, you may find that the tank needs to be elevated such that there is positive flow from the tank to the pump. If you remove the drain plug from the pump's suction side and water squirts out instead of air being sucked in, the tank will likely have to be elevated.

If you have an attached spa, be aware that the PH may drop too much during a spa run since turnover in the spa is much shorter than turnover in a pool. One solution to this problem is to inject the acid into the pool suction pipe instead of the pump so no acid is drawn when in spa mode. However, this means that a hole needs to be drilled into the plumbing.
SETUP DESCRIPTION
The setup is quite simple and most of the components are available at Walmart and/or Home Depot. I will have pictures at the end which shows the parts and how they are put together. Here is a list of parts:
Large tank - the larger the better. Home Depot bucket with a lid is a cheap option. You can even use several buckets with tees to tie them together.
10' x 1/4" clear vinyl tubing or black irrigation drip tubing - I like the clear tube because you can see the fluid moving but it isn't UV resistant.
2-10 1/2 GPH drip irrigation buttons. Lower drip rate would be better but harder to find. These are used to control the flow rate which is proportional to the pressure drop across each one. Instead of drip buttons, you could also use a polypropylene needle valve such as
this
.
1/4" hose to thread plastic adapter for pump drain plug - ice maker parts work well for this and I found mine at Home Depot
1/4" hose valve - nice to have in order to shut off the acid flow but not really necessary
3/16" check valve - required for pads below the pool water surface. An all plastic aquarium valve can be used or something like
this
.
The first step was to create several drip assemblies. You might start with 4 to see how the flow rate is and go up from there. I use 1 1/4" of 1/4" black irrigation tubing on the barbed end of the button. I also hot glue this end since it tends to leak air a little. The other end will not be glued so that multiple buttons can easily be added or removed as needed to control the flow rate. Plumbers grease is good to have an air tight fit when pushing the hose onto to the smooth end of the button. The rest is pretty easy and just requires the fitting in the suction side of the pump and the hose in the tank as shown in the pictures.
The next step is to target the desired minimum period between refills of the tank. Larger tanks will allow for longer refill periods so choose accordingly. When setting up my draw rate from the tank, I targeted a minimum of 2 weeks between refill of the tank. Because I use only 1/2 gallon of acid a week, I could have easily targeted 4 weeks for refill but you will have to decide what works best for you.
Another factor is how much acid is used within the refill period. Most pools will use less than a gallon a week so this should not be an issue. Even two gallons a week with a two week refill period results in 4 gallons of acid or close to 1:1 water to acid in an 7.5 gallon tank which is a little high but doable. If your pool needs that much acid, I would suggest a 1 week refill period or larger tank so the tank dilution can be closer to 2:1.
Chlorine will also benefit some from dilution since it tends to degrade slower.
Once you have a targeted draw rate you can then work out how many drip buttons you will need. The draw rate from the tank is also dependent on the amount of suction from the pump so it is best to start out with the worst case or highest suction. This tends to be the lowest PSI reading on the filter. So you want the lowest head loss on the return side (e.g. no solar) and the highest head loss on the suction side (e.g. suction cleaner engaged). With a 2 speed pump, calibration is probably better done on high speed since low speed will have a higher dilution ratio.
The opposite is true for chlorine since the residual chlorine must be kept at a minimum level. So set the plumbing for the highest return head loss and the lowest suction head loss. This will make the draw rate a minimum and easier to set the minimum chlorine level.
Based upon the desired draw rate and pump run time, you can determine what the draw rate is in oz/min. For example, my pump runs 6 hours per day and I have a desired draw rate of 7 gallons in 2 weeks. So the instantaneous draw rate is .18 oz/min so the optimum draw rate would drain 1 oz of fluid in 5.6 minutes. With a measuring cup and timer, you can fine tune the draw rate with the drip buttons. Go for a slightly longer draw rate so that you will get at least the minimum refill period.
By setting up the draw rate and the amount of acid used within the refill period, you are assured that the dilution ratio will be high enough. However as a double check, it is good to do the math to verify this. Unfortunately, you need an estimate of the flow rate in your plumbing. A low estimate is best so you can simply use a head value of 4*filter PSI and look up the flow rate on your pump's head curve. This should be on the low side. The dilution ratio can then be estimated from:
Dilution ratio = Pump GPM / Tank GPM * Tank Dilution
For example, I know my pump runs at about 88 GPM. If the draw rate on the tank is 7 Gallons in 2 weeks and I run the pump 6 hours per day, the target draw rate from the tank is:
7 Gallons / (14 days * 6 hours/day * 60 minutes/hour) = .0014 GPM
Since I use 1 gallon of acid for 6 gallons of water in the tank, the dilution ratio is then 88 / .0014 * 6 = 377,000:1 which is more than enough dilution. The often sited acid mixture of no more than 1 pint per 10,000 gallons of water is a dilution ratio of 80,000:1. I can halve the tank dilution and draw rates so I can fill the tank every four weeks and have the same results. So there is a lot of flexibility built into this system to meet the needs of any pool owner.
The final test is to verify the PH and TA of the water coming out of the plumbing which can be done by capturing water from a return. Let the pump run for a while to make sure the lines are purged of air and the water:acid mixture is actually entering the plumbing system. I run my pool in spa spillover for a couple of hours and measure the spa PH and TA for verification.
The same procedure can be done for measuring the chlorine level coming out of the return.
Also, if you turn off the pump each day, it is a good idea to check the pump basket PH (
and chlorine
) before the next run cycle. This can determine if you are getting any flow while the pump is off and if it is enough to cause a problem.
If you find that the tank is not draining completely within the refill period, this is OK. Just add the normal amount of acid and top off with water (remember to have at least 1/2 tank of water before adding acid). As long as you are adding the correct amount of acid per refill period, the dilution ratios will work out ok (lower draw rate allows for lower dilution). Weekly testing is still recommended and every other day when first starting to use it.
If you find that the tank is draining sooner than you would like then add additional drip buttons.
As a final note, I have been running my system for two months now with fairly constant PH levels but the real test will be this summer when PH rises faster and pump run times are longer. It is a good idea to keep a close watch on PH levels when changing the pump run time since this adds more acid but PH usually rises faster too.
Hopefully this is enough detail to get you started.
On to the pictures.
Drip button with 1 1/4" of 1/4" drip hose
Multiple drip buttons together
Fitting in pump suction drain plug with hose
Hose, buttons and tank