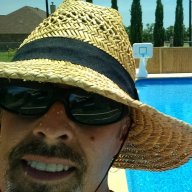 Mod Squad
TFP Expert
LifeTime Supporter
Okay TFP Spark-Masters, sanity check. The recent bleach shortage has me FINALLY contemplating investing in an SWG. I'm out in the country and don't have unique city code issues, but I always want to meet general NEC good-practice requirements. My pool is about 30' away from the pad, so issues there. I'm concerned with the equipment pad and locations of outlets/timers to filter/pump/ground.
Current situation:
I currently have one outdoor weather-proof outlet near the equipment pad (120V) that powers my pump and LED light transformer. Bottom of the outlet is 20 inches from the ground (see image below).
Currently running a second outlet to that area. For now it will be 120V dedicated to my pump, which will free-up a space on the original outlet for the SWG. NOTE - In the future I may convert that new 120V outlet to 240V if required for a new motor.
Distance from the sub-panel to the back of the shed (equip pad) is about 50 feet.
My pump runs 24/7 (on low) for country dust and surface junk. I plan on using an Intermatic timer to support the SWG run times.
So here are my questions:
Is there any reason to be concerned with the location (either height from ground or distance from the filter) of the current 120V outlet, or even the new 2nd outlet I'm working on? No flooding, but occasional rain exposure at the exposed side of the lean-to cover with windy rain.
For the new/second outlet, I plan on running 12/2 wires (Romex or strands) from a 20 amp GFCI through metal conduit inside my shed and exiting outside to the equipment pad area. Is there any reason to consider 12/3? Or even to consider 30 amp 10/2 or 10/3? In the future, when I get a new 2-speed or VSP, I can't imagine needing more than 20 amps or a 3rd leg, but wanted to check.
Now's the time for me to make changes. I'm leaning towards leaving the original outlet low where it is at the lower right corner and simply dropping my new (2nd) outlet low and to the left behind the pump at a similar height as the original outlet. Or (uh oh) use this time with the new outlet install to relocate everything on the wall somewhere else (higher, centered, etc). Under the lean-to is pretty-much dry. I only encounter a little water when I open-up my filter for cleaning (spillage) or to purge air (minor spraying). Significant outlet location changes could mean longer whips/cords or other connection to get to ground/equipment level. The OCD in me is kicking-in and I don't want to make this any harder than it needs to be. My gut tells me to drop the new outlet behind the pump and walk away, but I am open to ideas before I cut new holes in the shed wall. GO!