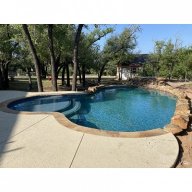 Jun 8, 2020
516
Pool Size

14060
Surface

Plaster
Chlorine

Salt Water Generator
SWG Type

Pentair Intellichlor IC-40
Testing FC, using the K-1000 Taylor kit, it's reading in the 5-10 range. But using the TF-100 drop kit (R-0870 powder with R-0871 FAS/DPD solution), I'm getting 3.5.

Is this within realm of variance for the K-1000 Kit? Or, could my solutions be old (kit is only a month or so old), or does the K-1000 kit test total chlorine (FC + CC)?

R-0003 with R-0871 is showing no CC though.... So I don't think the K-1000 is testing total Chlorine.

I'm just a bit confused and want to be sure I'm getting good test results.