Hi All, and thanks to everyone for this board and the valuable info.
I am building a 20x40 IG liner pool with aluminum walls.
Equipment: Pentair WFDS-6, Triton TR-100 side mount sand filter. (Not the filter I ordered, long story), 2 lumio lights, 2" plumbing, 1 skimmer, 2 returns.
I thought I would post a couple of pictures and ask a question. Or two. :-D Here is the initial dig by Jay, the best backhoe guy ever.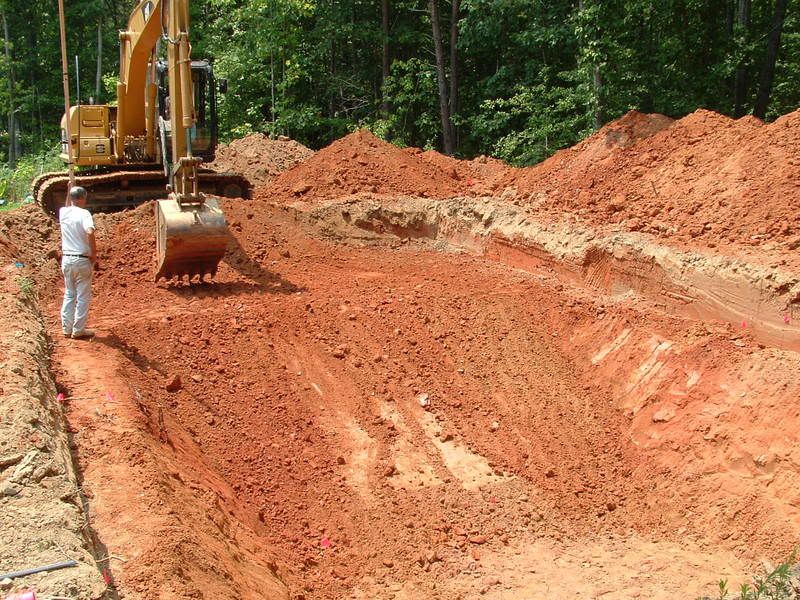 A week after the dig I had the walls set up and was ready for the bond beam pour, and we had 7 inches of rain in 5 hours. Thankfully I had no collapse but I did get 6 - 12 inches of silt in the hopper which I have just finished removing. I have re-aligned the walls and repaired the large washouts in the corners.
I will re-install the steps today and fill the cracks under the walls. My helper, who has built 3 liner pools, is now in the hospital after a fall from a skimboard in Nags Head so I'm kinda on my own for now.
Question: The company where I bought the pool reccommended a vermiculite/cement bottom. I have the materials but suddenly don't have the labor to finish the bottom in 1 day. Is this something that can be done over 2 or 3 days or does it need to be done all at once ?
I will post more as I progress. Thanks again, this board has already saved me $$. 8)