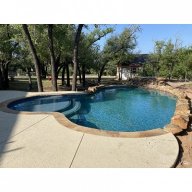 Jun 8, 2020
494
Pool Size

14060
Surface

Plaster
Chlorine

Salt Water Generator
SWG Type

Pentair Intellichlor IC-40
I think I understand the basic principals for controlling pH, and the impact on TA:
Lowering pH:

Use Muriatic Acid - Will also lower TA

Raising pH:

Airation - Will not raise TA
20 mule team Borax - Will raise TA slightly
Baking Soda - Will raise TA more than 20 mule team Borax
Since my Pebblesheen pool is not even a week old, I assume I'll be frequently lowering pH for a while. My TA started at 160, so it's been pretty easy to just add MA to lower pH and TA, then wait for the pH to rise to 7.8/8.0, and add more MA.
But now that my TA is down to 90, and I expect it to continue to drop as I add MA to lower pH ... so I'm wondering what my MO should be going forward.
For example: Once my TA gets down to the 60 or even 50 mark, but my pH is still rising over time ... do I continue to use MA to lower the pH, but then have to do something to raise the TA back up since the MA will continue to lower TA? Or ... once the TA is down in the 60-70 range, will it become less affected by MA additions, and it'll remain stable in that range even though I'll be adding MA to lower pH?
I realize I'm not there yet, but I expect I will be within a week or so, and just want to be ahead of the curve for my plan of attack.