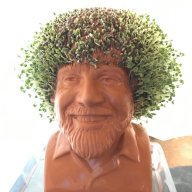 TFP Expert
Platinum Supporter
May 23, 2015
21,408
Pool Size

16000
Surface

Plaster
Chlorine

Salt Water Generator
SWG Type

Pentair Intellichlor IC-60
As an update to something that was quickly discussed at the end but not properly covered, there are ways to adjust pH without impacting TA even though I stated that the two are linked and there isn't a way to affect one without affecting the other. If one wanted to lower pH without the TA changing, the way to do that is through CO2 gas injection. CO2 injection creates carbonic acid (H2CO3) in the water which dissociates into an acid proton (H+) and bicarbonate (HCO3-). Since the carbon dioxide is adding both hydrogen and bicarbonate, the TA remains unchanged but the pH decreases.

If one wants to raise pH without substantially affecting TA, then one would use borax. Technically speaking borax raises both pH and TA BUT the contribution of borates to TA at normal pool pH levels is so small that one can consider it to be practically zero. Borax is also a moderately strong base so it raises pH substantially.

As you can see, the interplay between pH and TA can be subtle and complex.
Last edited: