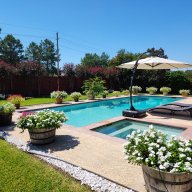 May 27, 2019
1,619
Pool Size

25000
Surface

Plaster
Chlorine

Salt Water Generator
SWG Type

Hayward Aqua Rite Pro (T-15)
Take a read through these threads. TA = Carbonate Alkalinity (CA) + CYA Alkalinity + Borates Alkalinity. CA sets the maximum pH in a pool. I raised my Borates and CYA and lowered my TA to get my CA into the 30-40 region. This put a low ceiling on my pH. Look at the posts by
@JamesW
for the corrections to TA to CA.
I added the Boric acid and see the other thread about using the Crud from Home Depot. My TA did not change based on the TA test, still about 70. I'm also increasing my CYA to 80, about 1/2 way there (76 with my eyes). The goal for me is to reduce my CA down to a level that the maximum pH is...
www.troublefreepool.com
And this one
FC 8, pH 8.0, TA 90, CYA 80, Borates 50, Salt 2900 as of 7 AM this morning. Poolmath says to add 1.5 gallons to reduce the pH to 7.0. Added! I'm now "aerating". The question is, how long should this be? Lower Total Alkalinity - Trouble Free Pool just says to keep doing it until the pH reaches...
www.troublefreepool.com
pH vs CA chart