My Pentair MasterTemp 250 stops heating and is giving an SFS error.
I have replaced both the thermister and the Flue Stack Sensor but have the same issue.
The heater fires and exhaust temp slowly climbs to 480F then shuts off.
I placed a warranty claim and provided all this information and the service Co indicates that I need a new heater, due to "Checmical Damage". I haven't heard from the warranty Co yet but I believe the wording is specific wording this way so that the claim will be denied. My pool has been serviced 2X week sicne I've owned the property so I doub't it's due to any chemical issue (more likely age related) so if declined I'll be pressing for more information on that. In my opinion, the service Co is just being lazy and I'm fairly certain that this could be resolved without complete replacement.
Anyway, the manual leads me to "Check Heat Exchanger Coil for leaks, liming, soot, or low flow"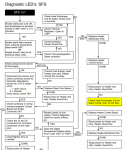 If I'm unable to get resolution through the warranty Co I plan to open the thing up for a look. If there's evidence of "Chemical Damage" I will probably have a go at this:
Has anyone attempted this and is it relatively simple?
Does the kit include everything that would need to be replaced?
My concern would be that I replace it and introduce some leak due to some seal that I should have replaced at the same time.
TIA
KIWI