TFP has been helpful to me over the years and I am paying this forward hoping my experiences will help someone in the future.
Background
Pool installed by previous house owner in 2000. Pool builder is one of the top family owned companies in the area and has maintained pool ever since. 20x50 IG pool with spa and waterfall with Hydrazoo plaster finish.
By 2016 pool finish was showing some wear and was a bit rough especially in the spa. Then one day after a big storm this stain appeared in the deep end of the pool.
I initially thought it was from some animal that crapped in the pool. Nothing I tried would clean it off. Pool company came over and used acid on the stain which removed it for a day and then after a few days it returned. Tried treating it that way three times with no lasting success. Pool guy said he thought pool took a lightning strike.
With a 16 year old pool finish I knew the pool would need to be refinished in a few years. That stain set things in motion.
Getting Bids- Fall 2016
I spoke to two friends who had their pools refinished and both had problems with the surface afterwards. Their pool builders wiggled on their responsibility saying the PH was too high and the pool was not brushed enough.
I got bids from 3 pool companies in the area in late 2016 before I closed the pool. My original pool builder proposed the best price. I also learned that all the pool builders subcontract to a few companies who do the actual plaster work. I made it clear to my pool builder that I wanted them to take all responsibility for the startup of the pool, water balancing, and brushing. Whatever it needed fold it into their price.
In early 2017 I finalized the contract with my Pool Builder. Finish is Cayman Lagoon Hydrazoo plaster.
http://clindustries.com/polished-pool-finishes/hydrazzo/
The following was included as part of the contract:
Refinishing the Pool - Spring 2017
I scheduled them to open the pool and do the refinish as soon as weather was warm enough in Spring 2017. The pool was drained and prepped over 2 days by the pool company including a scratch coat bonding surface. Then the plaster subcontractor arrived and in 2 days shot a new coat of plaster and polished it smooth. The pool company arranged for water trucks to arrive at the end of day 4. Pool took four 700 gallon water trucks and then I finished topping it off with hoses.
Pool Startup
By late May 2017 pool was looking good, new water was in, and job looked great. Pool company said not to sue SWG for at least 30 days. My friends who had pool finish issues said to give it a few months. I ran the 2017 season without any salt in pool and the SWG and used chlorine tablets from Costco in the skimmers. PH needed continuous monitoring knocking it down below 7.8 as to be expected with new plaster. I monitored PH and brushed pool as well as the pool service coming weekly to check water chemistry and brush.
Problems Began Showing
Pool finish was nice and smooth for the first 2 months. By August I began seeing problems in the Spa step areas.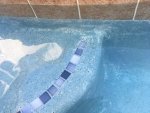 Areas were pitting and getting rough. Not what I expected to have in a few months. I asked my Pool Builder to drop by and take a look. Now this guy is the son of the owner, worked on building my pool in 2000, and is now the Director of Construction. He came by, saw the problems, and said he would get the plasterer to come by and look at it. This dragged out into September trying to get the plasterer's attention on this.
My Pool Builder reassured me that they will stand by their work. He said they have had the plasterer redo a few pools and if it was necessary it would happen. To me these issues were cosmetic but not what I should have after a few months. And I didn't know how much more it would deteriorate over time. Pool closing time came in October and we agreed we would see how the pool looked when it was opened in 2018.
This is what the spa looked like when it was closed:
To be continued ....