So helping a family member open a pool that has never been clear in years in fact they gave up on it for 2 years and last year hired a "professional" with no success on a swimmable pool after they worked on it all summer.
This year I thought I would take it on. spent a lot of time researching before i started to work on the pool spent the first week bringing the ph down and alkalinity up opposite from what i hear most people have. After that was adjusted i added dichlor to shock the pool and to bring the cya up from 0 and have kept the water at shock level (slam) with chemicals all in balance for about a week. Pool passed the oncl test and i let the cl come down to 5. Waited a few days for the water to clear no success could only and still can only see about 6 inches down. So i thought to slam the pool for another week just in case.
Week later I'm wanting to bring cl down however I've tried everything to get the water clear including adding flock twice with no effect. Bought DE to add to the filter and filter socks. The filter socks kept getting clogged with what looked like sand however after looking closer it appears to be the same stuff covering the walls of the pool
Around the entire pool at least 2 feet into the water (and expected to cover the floor) is what appears to be sand stuck to the walls. Same color and texture. Read about sand algae and calcium build up although looks nothing like calcium build up pictures ive seen. However, was told to scrape some off to see if it dissolved in viniger and it does.
Any tips for a clear pool that hasn't seen the bottom in 4 years greatly appreciated. Pool has been vacuumed and brushed almost daily for just shy of a month. Seems to be clear of debris.
FC — 17
CC or TC — .5
pH — 7.2
TA — 90
CH — 190
CYA — ~ 35
First picture shows the "sand" attached to the top in brown then under water looks like white specs or eggs that extends deep into the pool.
Second photo is looking at the second step inches in the water barely visible.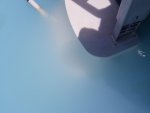 Last edited: