Jul 1, 2021
6
Pool Size

15030
Surface

Plaster
Chlorine

Salt Water Generator
SWG Type

Hayward Aqua Rite (T-15)
I'm new here, this is my first post. After almost 3 1/2 long months, our pool build
finally
made it to the concrete patio and deck pour last week (7/7/21). We did a straight concrete coping and decking pour with medium broom brushing. Overall, it turned out looking great. Unfortunately, there are a number of concerning areas that showed up in less than a week. I saw hairline cracks forming within 5 hours of the completed pour and several worsening cracks only 6 days later. As far as prep work, PB laid down road base and packed it (almost 2 months ago), laid rebar at 1' grids, watered the area only 1-2 hours before pour (not night before), and it's 4" thick.
The pour began at about 0926 A.M. and completed about 1145 A.M. The patio was done in the first 15 minutes. Then the concrete decking was poured in a clockwise fashion from Point A starting at 0945 A.M. - 11:45 A.M. In total, 943 square feet (4" thick) were poured (~11.64 cubic yards)—I believe there were two trucks. If so, I'm not sure when the switch occurred.
Unfortunately, during the work someone got impatient and pulled the styrofoam molds too early at Point A, which led to some unsightly patch work that went on for nearly 2.5 hours
after
the entire pour was completed. When the form was prematurely pulled, concrete started to slop into the pool and they tried to shove it back in place with styrofoam (at an angle) and propped it up with 2x4's to try and "set back up". When they pulled the temporary form back off, large chunks of concrete pulled away and left a lot of pits on the coping face. Next, since the trucks were gone, the PB crew was literally taking leftover concrete from around the job site and building out the area in patches—they worked it for over 2.5 hours. They kept trying to rehydrate the section as they packed concrete in, troweled it, brushed it, shaped it, and repeat—it should be noted they did not use the coping finish forms tools and instead manually worked the area because they had a 2x4 propping up this area the entire rework time. "Point A" was the first area poured and last area worked on. The finished section looks ugly—it bulges on both the bottom and the facade and the rounded edges
do not
match everything else—my wife calls it "The Growth" and she has not been picky about the details. Eventually the track for the Autocover is supposed to be bolted to the underside of the coping.
Today (Day 6) was the first time I've walked on the concrete and was able to inspect it up closely. At "Point A", cracks began showing up exactly where the PB crew was patching up the coping section. It started on the coping face and continued to grow throughout the day as it is working along the top side of the coping piece—it's exactly where the crew was trying to add "extra" concrete onto the poured concrete. I can see additional hairline cracks moving laterally along this section.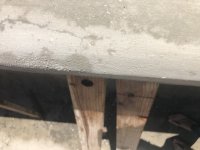 The second area of concern is the hairline cracks that showed up at Point B less than 5 hours after the pour (about 4:30 P.M.)—it was in last third of the areas poured. I know "all concrete cracks", and the minor hairline cracks I've seen show up over the days seem acceptable. However, Point B was literally the only section with a crack this bad—and it's grown almost every day—until "Point A" cracks showed up today. The same fracture at Point B is now starting to extend perpendicularly past the stress joint from the coping onto the decking. What concerns me most is the fracture has some arterial splits forming and isn't one contiguous fracture line. Considering no where else on the pool except these two points is showing this kind of stress fracturing, I feel there is a bigger issue in these spots.
Does this coping (Points A and B) need to be replaced in both areas? Is there a method to accomplish this without making it look terrible?
There are three additional areas with cosmetic (possibly beyond that) issues I'm wondering if they can be fixed and, if so, should the PB have to fix them?
1) Along the Autocover pit, there is a very messy seam with, what appears to be, ragged or crumbly concrete. If anything it's gonna get some toes.
2) Around the base of our handrail, the concrete already appears to be flaking off —it just looks plain messy and careless. The handrail also wobbles between 1/2" - 1" if you jiggle it. Doesn't seem right.
3) Do I need to worry about globs of concrete spilled across the tile?
Can any of these spots be fixed without destroying the overall aesthetic and tiles?
For awareness, it's been in the thick of a heat wave. Day of pour occurred it was 97'F; 106'F day 2; 109'F day 3; 114'F day 4; 106'F day 5; and 92'F day 6. I've watered 4-6 times a day to allow for wet curing. Only exception was Day 1 where I watered at 5 P.M. and 8:30 P.M.
I'd also like to mention I've been super patient with the builder — they are almost 4 weeks over schedule, have had to do rework many times (waterline tiles were redone 3 times), and is very unresponsive. The project sat idle for over 2.5 months (gunite shell to decking pour). The constant rework leaves me concerned about overall quality. I want to avoid further delays, but more importantly, I want a quality job that isn't going to deteriorate or cause safety issues.
Thanks in advance for your advice!