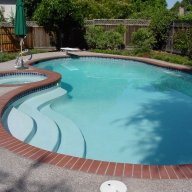 TFP Expert
LifeTime Supporter
May 3, 2007
15,055
Pool Size

20000
Surface

Plaster
Chlorine

Salt Water Generator
If the VRV is located at the top of the panels and the return plumbing has not fully primed, then the VRV will likely remain open, leak air into the pipes and air will continuously come out of the returns. It would be unusual to have a closed VRV without fully priming the pipes for this scenario.

However, if the VRV is lower than the top of the panels, it could still remain closed and the return pipe is not fully primed. One way to check is to increase RPM after the panels have been running for a while and no air out of the returns. If air comes out of the returns after increasing RPM, the plumbing was not fully primed. This is not a critical situation but may create a bit more noise in the plumbing as water is falling down the return pipe rather than flowing down so pipes tend to rattle.

At a minimum, the panels need to prime or you will lose efficiency. This is usually not an issue if the panels are sloped so that air can travel upwards. If on a flat roof, the panels would most likely purge all of the air if there is sufficient flow. One easy way to check is to use an IR thermometer to check that all panels are the same temp. Plus if you target a flow rate of 0.1 GPM/sqft, then you can almost guarantee the panels will be primed.

Of course if the speed is too low, water may not reach the top of the panels and the flow would just stop but you would know that as no water would come out of the returns which I think happens in a couple of your tests.