EDIT: Found out this method only works if your iron is oxidized already, meaning it's got a dull or bright green tint to the water, or a nasty brown tint. If you know you have iron in your fill water, but it isn't oxidized yet, bring your pool to shock level and it'll turn the telltale green, then you're ready for the Polyfill.
My well water has iron in it, enough that when I add chlorine into my pool, it oxidizes the iron and turns the water a dull green color. Everyone said I needed to add in a sequestriant to sequester the iron, but that it wouldn't actually remove it from the water, and that I'd have to keep adding the sequestriant every month. Not wanting to add any more chemicals to my pool than I need to, I read about using polyfill to filter the iron out of the water. Not having a skimmer to fill with Polyfill, I rigged up a 5 gallon bucket to my pool ladder with some string, have a couple dozen 1/4" holes drilled into the bucket, and a large hole drilled into the bottom of the bucket. The bottom hole is just big enough to let the smaller end of a vacuum tube fit into and about 90% of the way down the tapered tube, it seals tight. I then got a piece of PVC pipe that just barely fits inside the return hose and the vacuum tube (both happen to be exactly the same size), connecting both the tube and the hose together. Not wanting to ruin the only hose I have for my pump, I wrapped the rigged up connection with duct tape, then sprayed rust-o-leum rubber spray around it and gave it 5 mins to set, and then wrapped that with duct tape again. I repeated this 7 or 8 times and, once pressurized by the water from the return hose, only leaks at a rate of a single drop every 8 or 9 seconds. Again, don't want to ruin my pumps hose, so that was the best I could do. Also sprayed the rubber spray around where the bucket and vacuum tube connect. After half a day of drying time, I opened the bucket and stuffed it with as much polyfill as I could, which came to about half the big bag I got from Walmart. That stuff starts expanding when compacted pretty quickly, so had to carefully close the lid without any sticking out. Now set the bucket on the pool ladder (strings tied across underneath bucket if you can't use the top rungs) and use another string to hold the bucket steady. If you have a small pump that might tip over or has short hoses on it, tie it down on top of another bucket filled with water (I used cat litter container). Also tie your hoses up to give some extra support if needed. Unstop your intake holes, prime pump, and then watch clean water come pouring out of the holes in the bucket. Let it run like this for a couple days depending on how dark the iron has made your pool water. You should notice a difference within a day. If its bad enough that it fills up the polyfill (not sure how you'd know without taking down the bucket and opening it since mine wasn't bad enough to have to change the polyfill), replace the polyfill every couple of days. Soon, you'll see the bottom of your pool, and then you'll end up with clear clean water with the iron actually removed from your pool, without needing to buy something monthly for it.
I will end up fixing the bucket so I can hook up a garden hose to it to top off my pool when low, and filter out the iron then before it gets into my pool again.
Also, as I experienced, if you turn off your pump or it loses power, when you turn it back on, some of the brown iron water will start pouring back out because of the iron settling down to the bottom when the water isn't moving. 10 seconds later, the water coming out of the bucket was clear again and within an hour, all the brown water that had been dumped back in was filtered out again. When your pool is back clear, you might notice some iron deposits sitting on the bottom of the pool, be sure to brush those deposits so your pump and pull that through the polyfill filter.
When you're finally done and have a clear pool again, have someone else stop up the intake holes while your turn your pump off and then quickly get the bucket down before it runs out of water. This prevents any iron from settling to the bottom and spilling out into your pool. As a warning, be careful taking the bucket down, since its now filled with iron and water and is probably heavier than you're expecting.
I'm attaching photos of how I rigged up the bucket, what the water looked like when I turned off the pump to check the filter and some iron spilled back in, and what it looked like when finished.
Here's a link to the Photos Album containing my pictures of my setup to filter the iron.
Didn't think to take photos beforehand, imagine my entire pool that green color.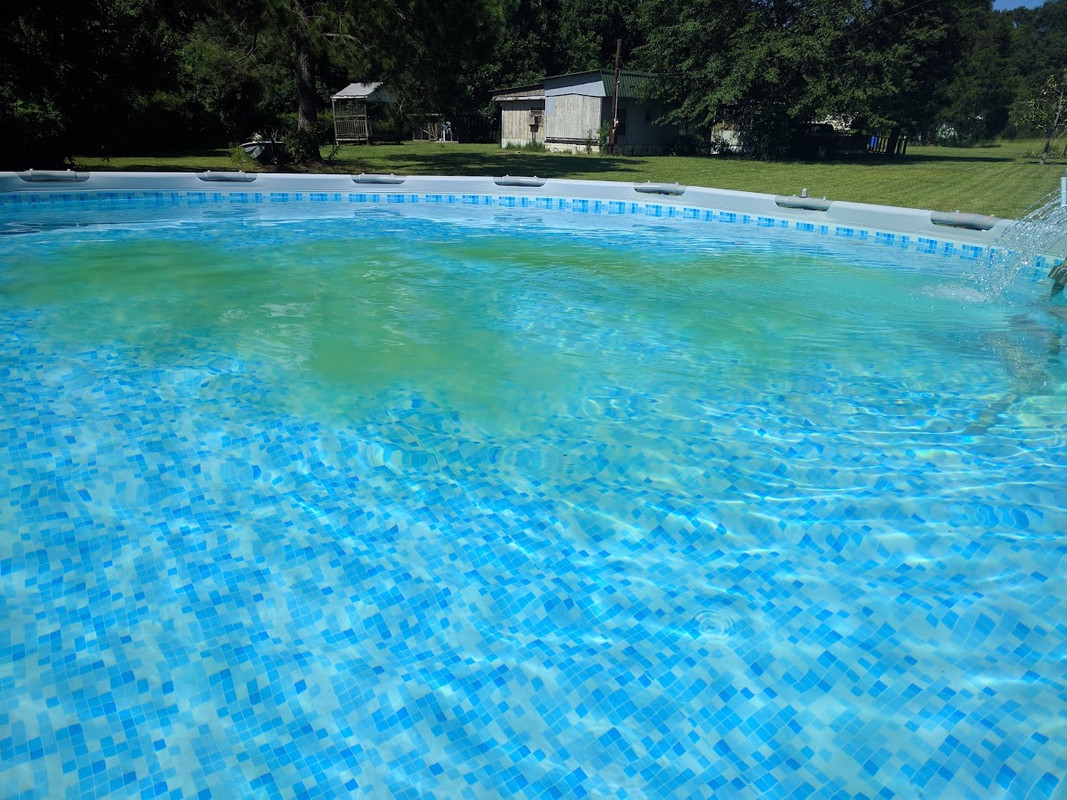 This is my setup with it finishing up cleaning out the iron.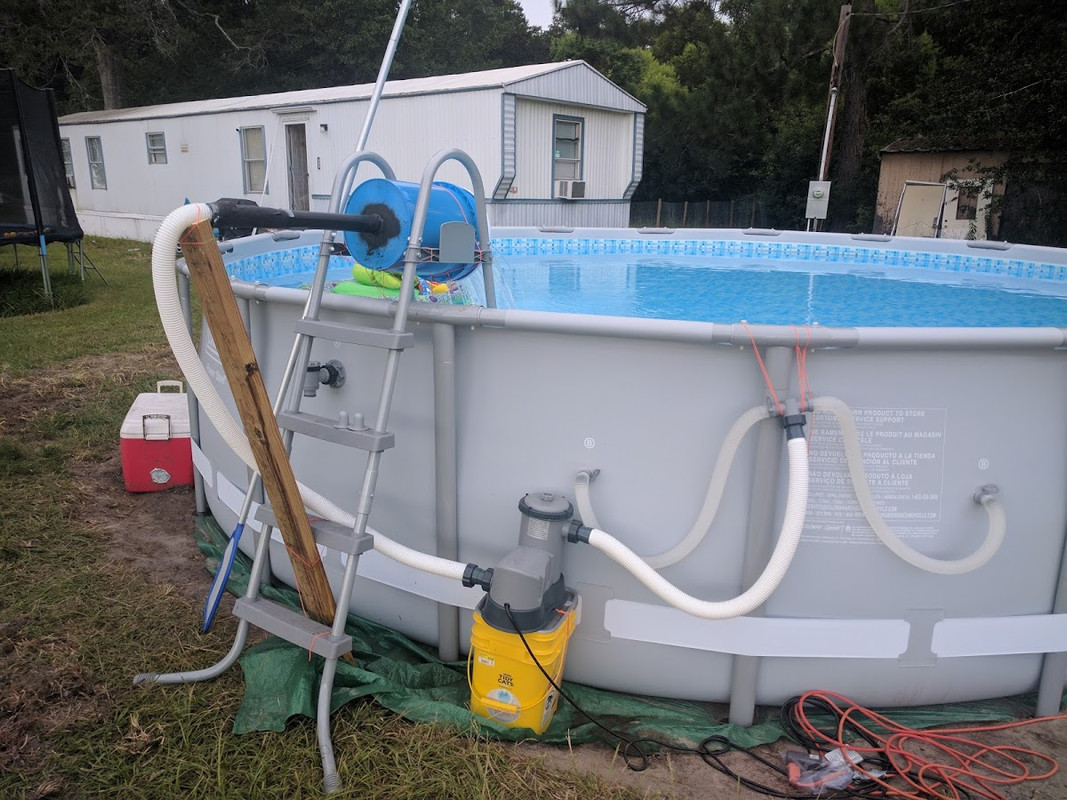 This is the holes in the lid and shows what my water looked like after filtering.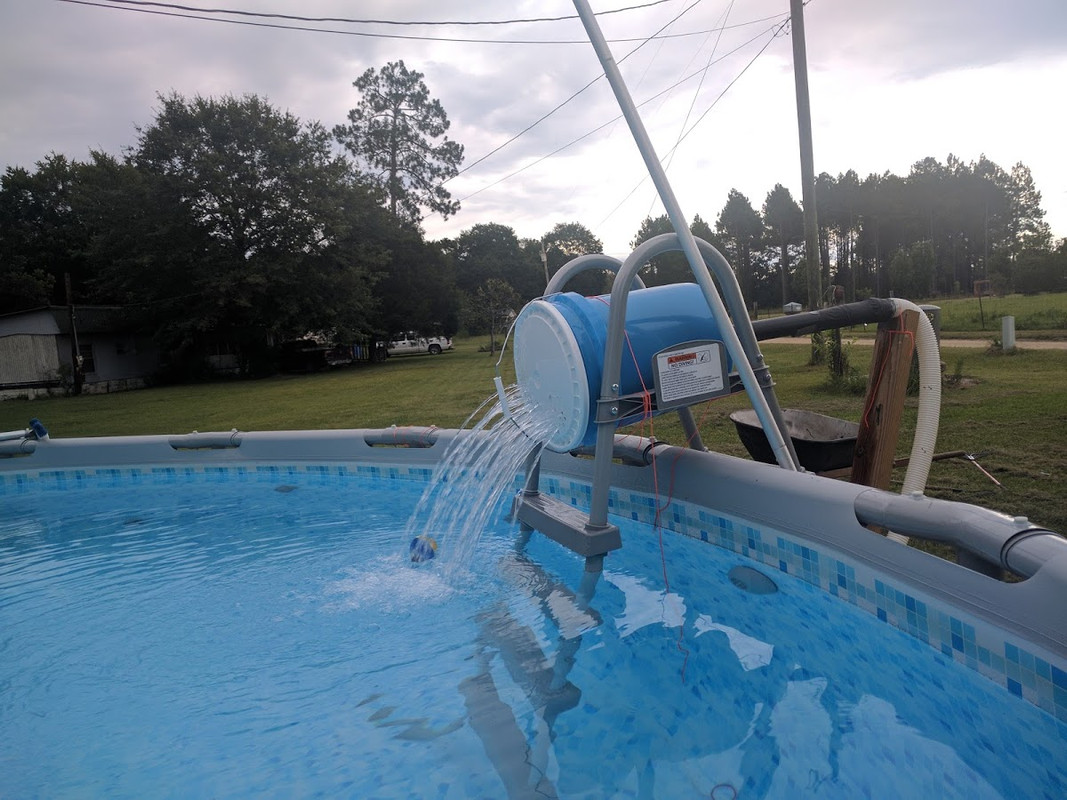 Last edited: