My best intention was to open up Patriots day weekend. Thats the weekend of the 16th for you non Massachusetts residents. But alas, with 80 degree weather this week, I couldnt resist. Now mind you, I had/have no intention of getting in the water, just open up, get some FC in it, clean it up, balance the water, and maybe, just maybe, fire the heat pump and run the water to 65-70 so I can start up the old SWCG.
Well, I popped off the Loop-Loc that had been on since October 16th. I closed with an
FC 15
pH 7.6
TA 80
CYA 50
CH 100
I opened to
FC 0
pH <=7
TA 40
CYA <=20 (couldnt really read it, so it could be closer to zero!)
CH 60
Temp 48 BBRR
Heres what it looked like after the cover was off (you can see the cover laid out behind the wall).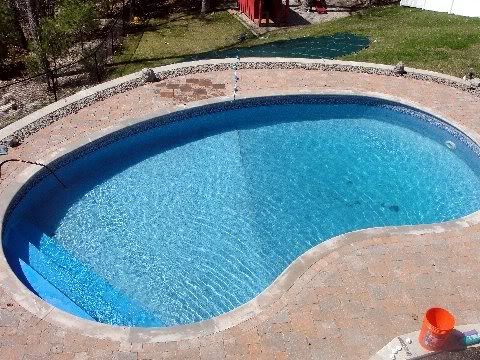 Everything went off without a hitch. Pump fired up, no leaks, added 3 inches of water and added a pound of soda ash. Let it turn over all night. Sunday I retested and got the same numbers except the pH was 7.2, and the TA went up. Added BBB, and got the FC at 4, TA at 90, pH at 7.6 and chlorinating with di-chlor to get the CYA up. Fired the heat pump yesterday and got the temp up to 61 by last night. This morning i fired the HP again. Its 80 degrees outside. Hope i get the pool to 65 at least so i can ditch the di chlor, add salt, and fire up the IC-40.