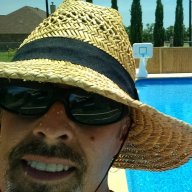 Mod Squad
TFP Expert
LifeTime Supporter
The following was used on my Hayward C1200, but may also apply to other Hayward-series cartridge filters that utilize the locking knob on top. These procedures should help those who find that their locking knob on top doesn't seem to fully disengage from the threaded rod inside the filter. Thus, it may seem like the top part of the filter is still stuck to the bottom, or that the knob is released from the rod when actually it is not.
Common problem: The retaining ring that holds the knob tightly against the top housing has rusted, therefore it is not fully seated or completely spinning properly on the rod inside.
Objective #1 - Get that top part of the housing off. That takes some patience. I used a continuous pulling action as I tried to turn the knob counterclockwise to help disengage it from the inside rod. Even then it still felt stuck. If that doesn't work, you may try the opposite by keeping "downward" pressure on the knob as you unscrew it. Then I grabbed the top house housing near its bottom "lip" which helped give me leverage to pull stronger and remove it.
Here is a pic of the inside of the housing. Notice the white concave shell that guides the top portion over the rod. To remove it, simply insert your finger into the small hole and pull firmly. It should pop out.
Next image you see one of the nylon washers and what's left of my rusted retaining ring.
Now you can purchase a new one-inch "E-Ring" as seen below. This one I got from Lowe's (2-pack) for about $1.28 (P/N 881403). In comparison, if you shop on-line you'll find some pool stores selling this ring for about $11.
After you wipe-off the area inside,, you'll slip the nylon washer back into position. Make sure the locking knob is fully pressed down "into" the housing so the stem is protruding inside as much as it will go. You need that room to access the tiny grove in that stem and slip the new E-Ring onto the stem.
The E-Ring holds the nylon washer in-place and also keep the locking knob pulled-in tightly inside the housing. I'm not going to lie, it's a bit of a pain in the backside to get that E-Ring to slip onto the stem of the locking knob. Patience, and possibly a flat-tip screwdriver and hammer may help. They helped me.
Once done, it should look like this:
I think that about covers it. Good luck!