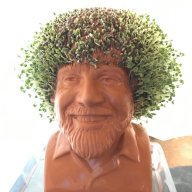 TFP Expert
Platinum Supporter
If I understand correctly when liquid chlorine goes into the water, it actually won't raise the pH as much as you might think. Liquid chlorine's reactions create byproducts of both high pH (Sodium hydroxide) and low pH (Hydrochloric acid), which neutralize each other. The net pH change should be about zero.

@chem geek

?
From
this thread
-
Adding Chlorine
NaOCl + H2O --> Na+ + HOCl + OH- (+ extra base Na+ + OH-)
HOCl --> H+ + OCl-

Sodium Hypochlorite (liquid chlorine or bleach) combines with water to produce sodium ions (part of regular table salt) plus disinfecting chlorine plus hydroxyl ion. The hydroxyl ion makes this a basic reaction that raises pH, but because the disinfecting chlorine is a weak acid this overall reaction raises the pH by less than a strong base would. Note that there is a small amount of extra base in the form of Sodium Hydroxide (lye or caustic soda) that comes with Sodium Hypochlorite and is there to help preserve it, but this amount is rather small.