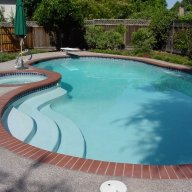 TFP Expert
LifeTime Supporter
A wet end would cost nearly the same as a new pump. Plus I don't think you would find one.
You need a fairly large pump. As I said before the WFE-6 would probably work fine:
Pentair Whisperflo Energy Efficient 1.5 HP Full Rate Pump - WFE-6 - INYOPools.com
Unfortunately, almost any high head pump that is going to work with the in-floor is going to cost about the same. Anything cheaper may be very difficult to find. But even if you did, you would probably be sacrificing quality.