I have a gunite pool that I have been battling stains with for the past couple years. The stains are like a yellowish to orange color. I have had success in the past using a product called Stop Stains, but it requires so much to treat the pool that it is nearly $100 each time.
My PH typically runs very high. It is a salt water pool. I just took readings and below are my current pool water results.
Chlorine - 4ppm
PH - 7.4 (usually is 7.8-8.0) I have to add acid weekly
Alkalinity - 70
Calcium Hardness - 370
CYA - 70
I have also had some had white spots on both the bottom and the sides, that I assume are calcium deposits. They don't come off easily. At the beginning of Spring I did a funnel with some acid over some of the spots to attempt to remove. It did remove them, but there are simply too many to do by hand.
I have been using a metal sequestrant such as Jack's Magic the Purple Stuff or Salinity Stain Control. I have also this year begun to use the Metal Culator, but even with the staining and sequestrant it comes out white each time I change it, so per the pamphlet this indicates I am dealing with Manganese or Lead. Is this what this staining is? I do fill from well water.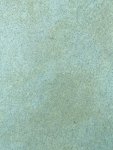 I have additional photos but it will not allow me to upload more, perhaps in any replies
- - - Updated - - -
How can I upload additional photos. Says I reached max capacity.