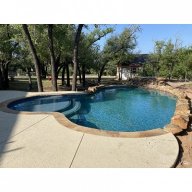 Jun 8, 2020
530
Pool Size

14060
Surface

Plaster
Chlorine

Salt Water Generator
SWG Type

Pentair Intellichlor IC-40
I'm thinking of installing a meter in the irrigation box, where my autofill is plumbed. It's 1/2" PVC line, so I don't need a large/expensive meter. I've found a few online, anywhere from $30 - $1000 ... so was wondering if anyone else has done this, and what you used.
I searched, and only found one other thread on it, so maybe it's not a common thing to do.
I'd like to track how much water the pool is losing (combination of evaporation, splashing, etc ...); but figured in the winter, it could also be a good indication if a leak develops.