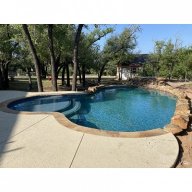 Jun 8, 2020
491
Pool Size

14060
Surface

Plaster
Chlorine

Salt Water Generator
SWG Type

Pentair Intellichlor IC-40
Thanks guys, I appreciate the input and info
So I got the auto fill plumbing all installed, and ready for the crew to tap into the 1/2" line for the Paralevel. I decided to put a spigot on the side of the back flow preventer ... I figured it would be convenient to have a soft water source at the equipment pad for filter cleaning, general spray down, etc ...
I have a 14"w x 19"l x 12"h irrigation box being delivered today. It'll go over the cutoff, PRV, and shark bite connections .... then I'll back fill dirt around the irrigation box leaving the PVC coming up out of the ground. I also need to get some pipe insulation for the exposed PVC, and I'l get
one of these pressure vacuum breaker insulating bags
for freeze protection in the winter.
I haven't heard from the builder today, so I'm guessing the crew won't be out until tomorrow (he did say Wed or Thu when I spoke to him).