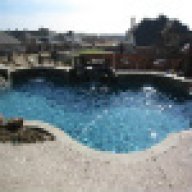 Platinum Supporter
LifeTime Supporter
i need to chime in on this as well and looking for some assistance. on a previous post of mine, i mentioned that my CYA seems to be disappearing. i am adding about an inch of water every 3 days or so due to evaporation but with everything i've read, that should not be enough to cause the sudden drop in CYA. i read above that it's possible to be broken down into amonia and that a shock is necessary. just a few quick notes on my pool so far this summer. the lowest the FC has been was 3.5 and the highest CC reading I've had was 0.5 so I've never shocked my pool so to speak. the water has look good but at times not polished...Based on Jason's feedback above, is it advised that I go ahead and shock my pool to the proper levels to see if the CYA continues to disappear?

Two weeks ago my CYA level was 80 and then i tested it last night and it was in the 55-60 range. same thing happened about a month or so ago as well. i also added 2 lbs of stabilizer this morning before coming to work.

Thanks for any assistance.