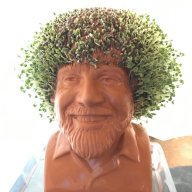 TFP Expert
Platinum Supporter
As this is a new build... I thought I would comment on this design consideration. Our pool came with the house when we bought it so we didn't have any input in the design, but I redid the pool equipment in 2005 and changed a bunch of stuff that always bugged me.. in particular where the equipment was located. The original PB put the equipment where it was convenient for them. right in the "middle" of the yard. I moved it 30ft away from the original spot but still within 20 ft of the pool to an area that wouldn't be used for anything else in the corner of the yard and behind some garden shrubbery. The shrubbery also provides a bit of a sound shield. So consider that when you decide where to put your equipment pad... The old pool equipment location is now our vegetable garden.

As to your single pump for everything.. We had an separate pump for the waterfall. It even has its own intakes in the pool. And they wired it to a switch on the side of the house. That has been nice because I can turn it on without worrying about the other pump settings, valves, etc. Automation theses days will probably alleviate that, but I've come to like having the water features on completely separate plumbing from everything else. just a thought...
I will second what is said here - equipment pad location is key. I hate where the PB put our equipment pad (and we built the pool...I was just not as involved as I should have been) and too this day is my one regret with our pool. Someday I will make changes but that will require money so the kids will have to been grown and off my financial largesse before that happens.
As for one pump controlling everything, there are some nuances there. If the water features in question are high-head features (things like bubblers or jets), then running that through the pool pump is fine and it can be controlled by valving. However, if the application is low-head, open-end pipe type features (waterfalls, scuppers, sheer descents, water bowls, etc), then you really want those features on a separate pump with it's own intakes and returns and the pump should be designed for water features (low head, high volume flow rate). The reason being is that if you try to use a high-head pool pump for a low-head feature, you have to add enough head-loss into the hydraulics to keep the pump from cavitating. I have a high head pool pump (1.5 HP whisperflo) on my waterfall and I literally have to have a valve inline with the waterfall return pipe to choke the flow down so that the pump doesn't cavitate itself into oblivion (yes, I can actually make the pump cavitate which is pretty hard to do under normal plumbing circumstances). So make sure that the hydraulic design makes sense or else you'll regret it.