My pool will be a year old this coming week. I too, like many others, have shown a genuine concern with my flagstone coping and spa surround. I have enjoyed reading and providing information regarding procduts that I have used in the attempts to seal my flagstone without changing the appearance and texture of the stone. I tried a product called Diamond Bright natural stone sealant which had, in my opinion, no effect on sealing the stone.
Following several discussions with my PB and a combined concern from both of us regarding the weathering of my flagstone, my PB has provided me a quart of sealant to try. It was decided I would be a Guinea Pig of sorts in trying this new product. Well here it is.
DRY TREAT STAIN PROOF
I applied a coat of the product to one section of flagstone roughly 2 weeks ago. Like I've said in the past, I want a sealant that will seal the stone without changing the color of my stone and not change the texture. In past threads, I remember reading posts about the "Water-Beading" test. Take a look at the pics below and I will let you make your judgement.
Untreated portion of my flagstone. I poured 1/2 cup of water on it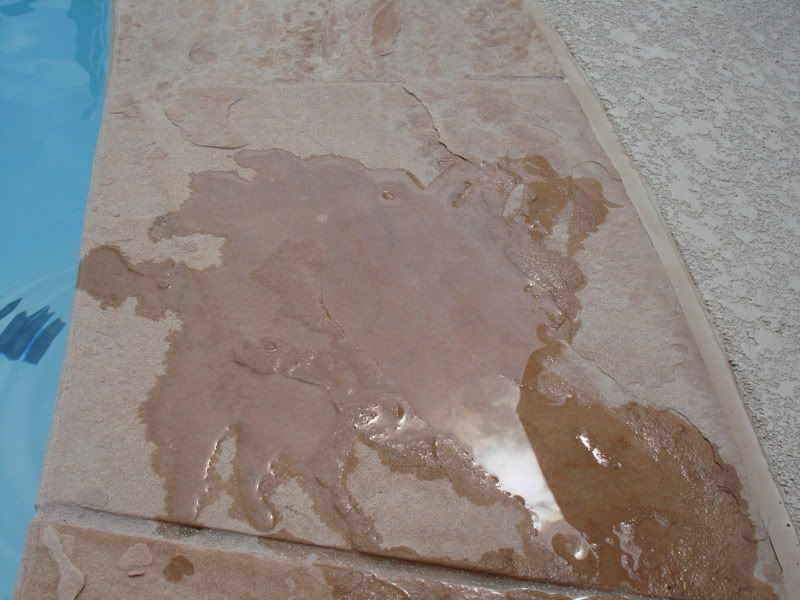 Next, I applied the same amount of water on the treated section.
After 10 minutes, here is what they both looked like.
Here is a shot after 2.1/2 hours. The bottom section has soaked in and dried up.
As far as application of the sealant is concerned, I simply bought the 3" cheap little foam rollers and rolled it onto the stone (Top, Front, and bottom). I am impressed so far and will probably proceed forward and treat the balance of the stone. There is no noticable difference in the feel of the stone. If anyone has any feedback or concerns of what I am doing, I would like to hear your opinions. My thought at this point is that it can't hurt.