Found a crack running from my coping down through the front of my skimmer to the pebbletec. Does not appear to go down below the skimmer mouth. See attached pics. Have had a gut feeling about adding more water than normal, recently.
Going to to try a bucket test in the next day or so. The area below the river rock (directly behind the crack) is damp. We haven't had rain in weeks, I haven't watered, and no one has swam for any splash out. The same area in the deep end is bone dry. So I can only suspect that there is some water making its way through the crack into the paver bedding sand. The water spots on the pavers/coping is from me pulling the skimmer basket.
Emailed the PB with the pics and he got right back saying he would send a diver out to dye test all applicable areas in the pool (not just the crack) to see where water loss may be coming from. Glad he was so responsive.
Warranty is 5 years on the coping/tile line and lifetime on the shell. Pool is 3 and a half years old.
Any thoughts/comments on the pictures? Rough idea on how to repair?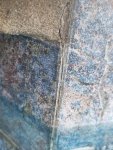 Thanks,
RC