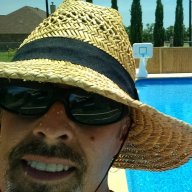 Mod Squad
TFP Expert
LifeTime Supporter
Jun 22, 2014
43,440
Pool Size

17888
Surface

Fiberglass
Chlorine

Salt Water Generator
SWG Type

CircuPool RJ-45 Plus
Question - what is in the bottom of my pool? Is that dead algae that just accumulates in various places where there's poor circulation? Or, is that live algae, which of course with my chlorine so high seems unbelievable.
If it's green it still has some life to it. Dead algae will become more white or grey in color. Some things that slow down the algae killing process is not maintaining the FC SLAM level consistently, a CYA higher than expected resulting in an FC that's too low, and/or not brushing and disturbing the algae enough.
I don't see a pic on this thread, so this is all assuming it actually is algae and not something else. I know that'[s been discussed quite a few times, but you have passed an OCLT previously, so now I can't help but wonder what that mystery stuff is in there. Your water cold yet or are you still heating it?