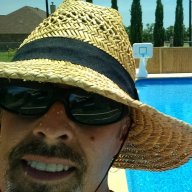 Mod Squad
TFP Expert
LifeTime Supporter
Jun 22, 2014
37,546
Pool Size

17888
Surface

Fiberglass
Chlorine

Salt Water Generator
SWG Type

CircuPool RJ-45 Plus
Anne, we understand. It does not make sense to encounter setbacks, but when we do, we take a moment to recap what we know:
- You appear to have been maintaining the proper SLAM chemistry
- You have been brushing and following the SLAM protocol
- Light niche cleaned
- Sand filter deep cleaned
- Increasing the MA level to clear otherwise cloudy, dark water won't work. No sense wasting your chlorine; something else is off.
- The biggest unknown here - the water. Abandoned pool for 2 years and you began the initial SLAM on 1 May. In hindsight, a healthy water exchange may have been prudent simply because no one knows what chemicals or additives were added to the water by the previous owners. With chlorine levels accurate to the current CYA, that is one thing that concerns me.
- Did you try the Vitamin C test on the stairs?
- When the water was a bit clearer before, were you able to clearly see all the way down to the deep end bottom?
- Is there a main drain?
- Does the gauge fall to zero when the system is off? It's possible the gauge is defective if it was left out in the elements for two winters. It's an easy repair (swap) if so.
- How is the water circulation? You mentioned the sight glass and stuff. Are you getting good water flow out of the return jets? Good suction at the skimmer?
- I almost never recommend this, but if you don't see positive changes in the next 24 hrs or so, you might take a water sample to the local store for a free test. Not for advice or to question your TF-100 testing, but only to see if they show any iron/copper in the water.

I'd like to see what responses you have for these and we'll go from there. Worst case scenario is that products were added by previous owners or perhaps real estate agent at some point that really hurt the water chemistry to the point a healthy water exchange may be required. But I don't want to jump the gun on that just yet. Hang in there.