I'm calling this my 1st slam because I've only had to bump the clorine twice in the 4+ years of tfp style of pool care, didn't really need to hold the fc to fix the problem.
I think my problem started last year of floor algae taking ahold in the creases and wrinkles of the liner and inside my main drains as I pretty much had them off. I did bump the fc up a few times to try to knock it down, which didn't help, and even put diclor directly on on it, which did help, but low time and money just meant I just used more clorine as I was getting a new pool next year anyway. At the end of the season I took my old Intex that had been up for 3 years down and put it away just in case.
So next year came, and we'll now oil crashed due to a 30 million barrel shorter demand (Kansas common oil traded at -$48 one day!), so not going to buy a new pool. Ouch, now i get out my old pool, found a crappy liner and patch the holes for the main drain and reinstalled the pool, that was no fun.
Put up the pool, installed a deck, reinstall equipment in a better spot with actual correct wiring, skimmer now faces south. Still have floor algae. Haven't installed my stenner yet and add in a few days of I forgot and it's worse, I still have perfectly clear water, so clear that I can really see the floor algae. Pool has been open since before the start of the swim season here.
I fixed my robot with Teflon tape, bought some bleach, got my test kit refill, and am determined to kill it dead.
The plan is the simple slam, test and brush as much as I can, run the robot as much as I can, if it persists, I might get some trickor pucks, and set them right on the floor tomorrow, yes not what anyone should do but at my level of floor algae it won't touch the liner.
July 4th, 9:30. No time to start so I poured in about half a jug of 10%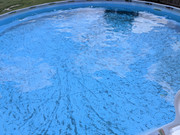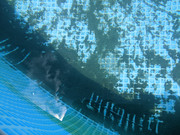 1:00pm, ok let's get moving.
FC 1.5
Cya 30
Brush whole pool, run robot, add fc to 12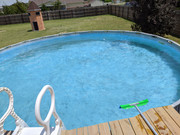 2:00pm, brush, test, dose
FC 8.5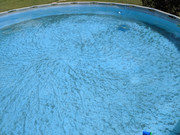 3:00 pm, brush, test, clean robot, dose
FC 8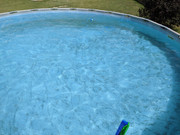 Off to gather in groups greater than 10, I'll check again tonight and hopefully brush it, I think I'm going to turn off the pump tonight and vaccum in the morning.