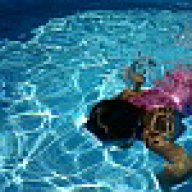 Gold Supporter
LifeTime Supporter
So, I only did a spa for the past 5y. But it too behaved similarly. pH was always low, even in a bubbling spa. Same city. So... I asked my ex-husband what he remembered about our pools, and same as me he remembered pH was always dropping. He did the pool chemistry till I discovered TFP and took over. That was in 2010.

My water seems to want to lower pH. It is very soft, and comes from the mountain by way of gravity. Tap water is testing at 7.6ppm. I think the last time I tested tap water TA it was about 40-50. I'd like to say I raised TA to 110 so as to get my pH to not drop, but I overshot it. It's not working, regardless.

Even so, at 110 TA, my pH drops. I know this isn't supposed to happen, but it does in Portland, and has always been so. Before I claimed this for 100%, I got confirmation of this talking to the ex dh.

He recalled, what we did to stabilize it was to add borates to 50ppm. We had a good stable season that year. I remember less because that was the bad year.

I'm down to 7.1 with the digital meter. If you're interested, my test results are available. I've been using that consistently since I got it. For continuity purposes. I know to compare it to my own testing weekly. I already compared it this week. I do have a question about rinsing in distilled water. How important is this?

Bottom line, my pH drops. This isn't supposed to happen, right?

I'm aerating now with the "Intex Air Jet" on my return. I'll get it back, but I post this because I'm soooo sure I'm not doing anything against TFP guidelines. My water seems to plummet pH under what is considered high TA. I believe this is a local issue. I'm not quite sure why though.

I thought I wouldn't bother with borates this year, but I'm considering it again. See my avatar pic.