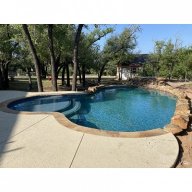 Jun 8, 2020
494
Pool Size

14060
Surface

Plaster
Chlorine

Salt Water Generator
SWG Type

Pentair Intellichlor IC-40
I've been watering the gunite shell 2x a day, and have noticed what looks like rust spots forming. I can't tell if this is rebar protruding through the shell, or if it's maybe just some mineral which was within the mix?
My only concern would be stains bleeding through the plaster in the long term.
Is this normal? I shot a message to my PB last night, but thought I'd ask you folks as well.