In the process of changing out a pool pump. the old one was hooked up to 2 different timers. Hi and Lo I believe. The wiring posts don't mirror what the old pump had but was given this new one by the pool company saying it would work. Any info or help in getting this new one wired up is greatly appreciated.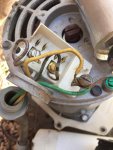 Old motor wiring
New motor wire posts with old wiring next to it.
New motor panel info.