Wondering if anyone could possibly help me to identify a stain. Opened the pool about a week ago (closed in mid Oct at good water chemistry and no issues with pool). At opening, typical debris in pool, but water was clear. Noticed a large stain around one of the spa returns that looked like a rust stain (pic 1).
Took a metal brush and a lot of elbow grease and got a lot of the stain removed (without any chemicals) except the dark "teardrop" spot (pic 2).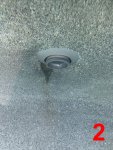 24 hours later, small parts of the stain re-appeared as a light orange color, which then turns to reddish-orange (pic 3 as well as other pics taken underwater).
Took a vitamin C tablet to the stain, but nothing really happened; stain didn't lighten much. Then took a tri-chlor tablet to the stain, and still not much. The only thing that seems to remove the stain is vigorous brushing with a metal brush, but again, that only removes the reddish-brown part of the stain. Checked inside the return (which was plugged over the winter), and no signs of rust, objects, organic material, or any stain inside the PVC housing, so the stain seems to be emanating from where the PVC flange connects with the Hydrazzo plaster. Pool is in it's 4th season, and plaster looks pretty good, except for this spot.
Thoughts?