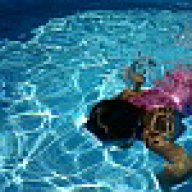 Gold Supporter
LifeTime Supporter
Signature modified, much better now LOL.

I added those weird cylinder things that the pool store gave me. I added 12 of those but apparently it didnt do much for the CYA. I bought 3 KG of stabilizer yesterday from Home Depot (No ingredients.) I added around 1 KG this morning by hanging it in front of a return . When should I test CYA again? Tomorrow or will it show up today?
Go squeeze the sock every half hour/hour, or as often as you're nearby. It'll help it leave the sock and disperse into the water.