Greetings,
In 2002 we set up an AG rectangular pool on the South slope in front of our house. A 3' high block wall was built into the slope to make a flat area 15 X 34. Later a composite deck around 2 and a half sides. Here's what it looked like the week before Christmas. Note my sons bare footprints.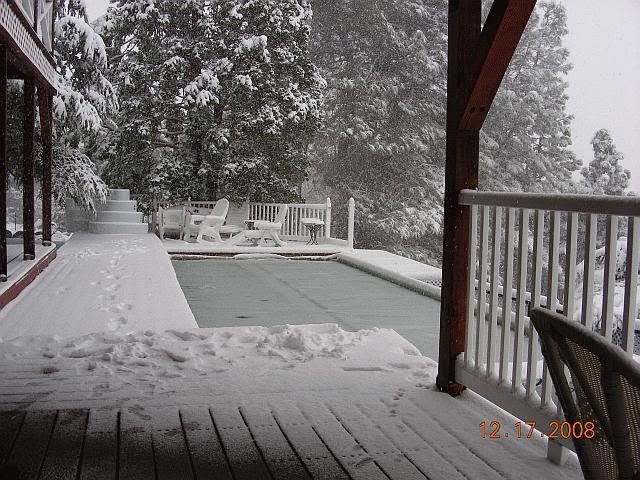 The pool had its problems and required replacement. I studied various options and designed a pool to fit the existing deck and walls. Plans and books were purchased from DEB Design, Homebuilt Pools and Sunland Owner-built pools. I also investigated a Vanishing edge pool - beyond me, I decided. The final design uses pressure treated (PT) wood framing 4' high along the South and West walls. The Other walls were extended 1' above the block and all 4 walls were covered with 1/2" PT plywood.
Here's the old pool and other mess before demo.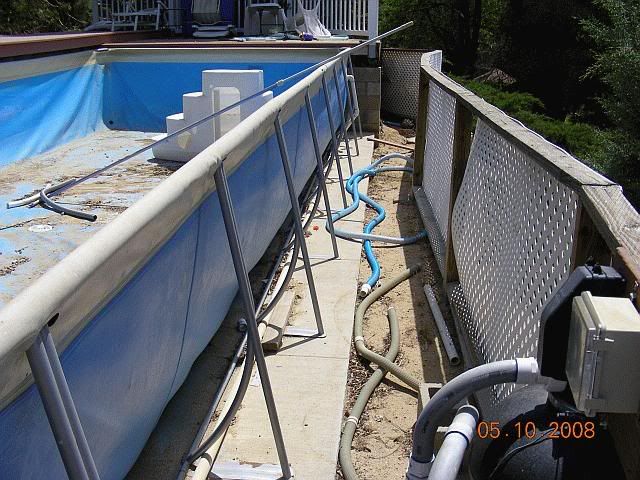 Here's a view of the South wall posts being set in concrete. PT 4x4s 6 feet long are set in 2' of concrete with a 34' 12"X12" bond beam connecting them. The initial deep end hole is seen here also.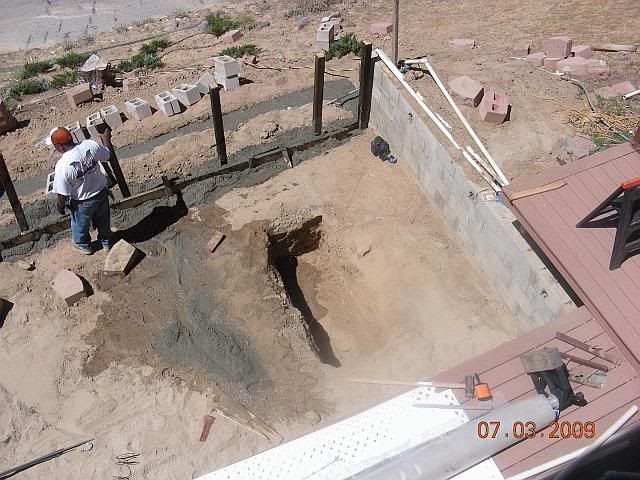 The West and North walls are shown before the vertical extension and end wall framing are finished. Note the South wall posts.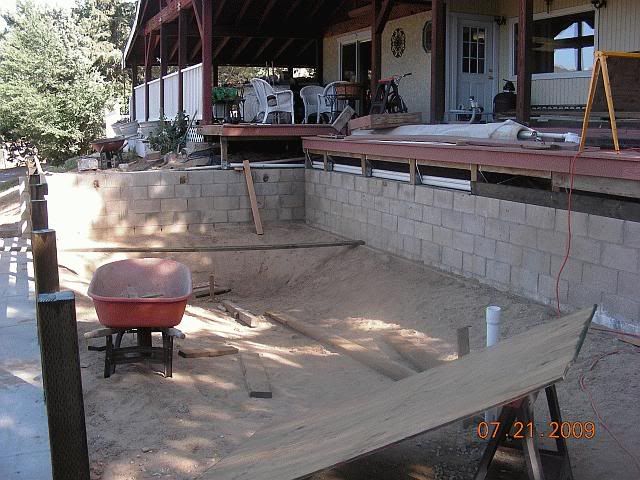 Here is the East wall with extension framing and skimmer hole, Some of the framing for the South wall is in.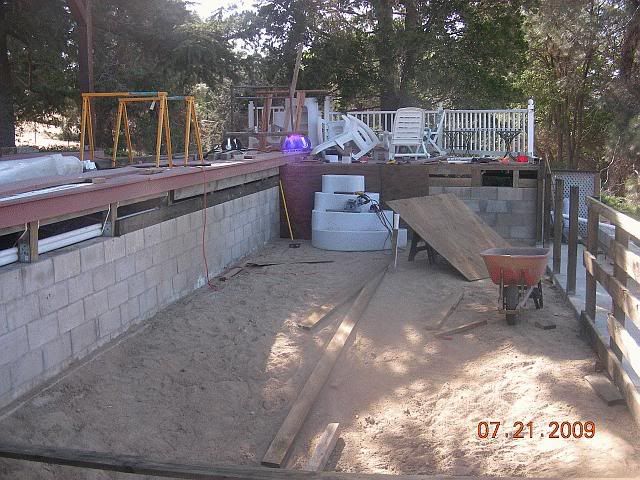 The wall framing is complete with the plywood sheathing. SS screws used throughout. PT wood is rated for contact with soil.
Here's the West view with returns and vacuum port visible. The Solar cover will reside under the far deck and an extension to the left. 46" shallow - 6'6" deep end.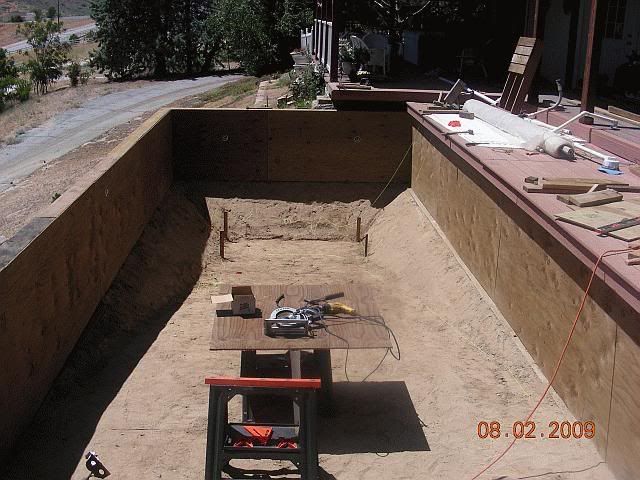 Last Saturday the perlite/concrete bottom was placed. White foam on the walls. 2X8s with beveled edges in the corners. Note the composite decking on the pool walls.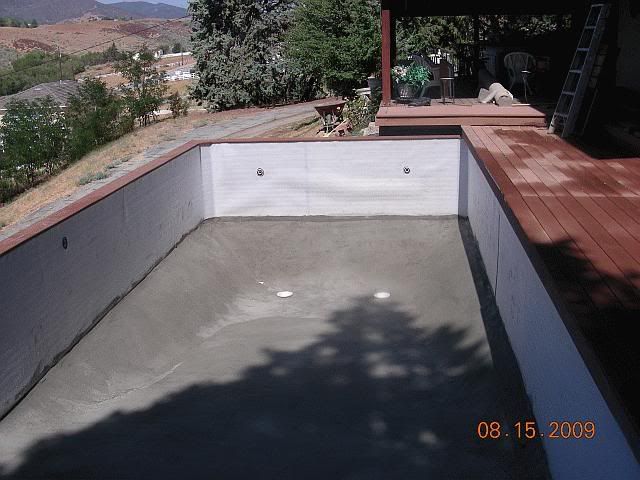 Liner in and filling with water - Saturday afternoon.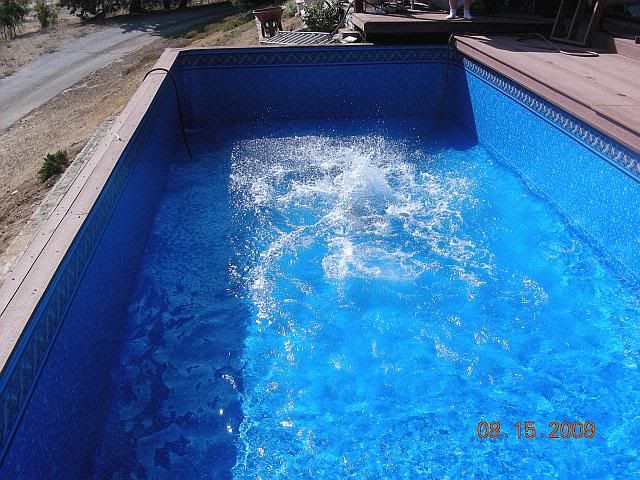 Sunday - full of water and a happy kid.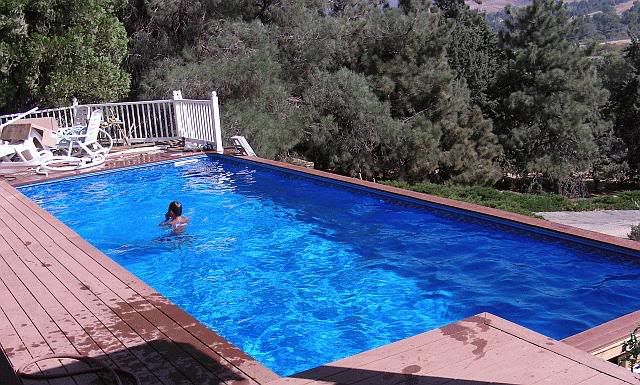 The concrete was poured on July 3rd and liner placed August 15th. Weekends and evenings well spent. Soon I'll be able to stand up straight again

I contracted the concrete work - everything else was on me. Two ladders, one on each end of the pool will go in tomorrow.
Thanx to all for your help and suggestions on the chemistry.
Regards, Martin