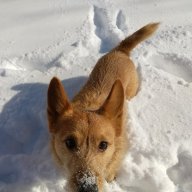 Feb 28, 2021
100
Pool Size

17000
Surface

Vinyl
Chlorine

Salt Water Generator
I read the Pool School AGP winterizing article, and it has a bullet in the process for "if" you're using a winter cover.
As a first-timer, how do I decide? We typically get a week or two of below-freezing temps in January/February. Sometimes, we get no snow at all (at least never more than a dusting), and sometimes we'll get hit with a storm that drops 6+ inches, but that doesn't happen every year.

We don't have a ton of trees dropping leaves near our pool, but we do have some tall pine trees that drop needles and, starting probably in the next few weeks, big pointy pinecones like little Dang torpedoes.

Another thing I do not have is storage for a cover (no garage, no basement, only a small shed that's already full). As it is, I have no idea what to do with our solar cover...

It's still in the 80s here during the day, so I have plenty of time to figure this all out, but I want to start looking for whatever supplies I may need. Water is about 83 degrees today without the solar cover having been on for a couple days at all, so I likely have into November before we see the water down to <60.