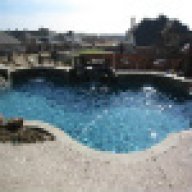 Platinum Supporter
LifeTime Supporter
I just have a general question. I apologize up front as i have not searched on the site to see if this has been answered in previous posts.
If someone is having a pool party, i read on here that it's a good idea to bump the FC total up a bit to help cover any that maybe lost during that time.
My question is after everyone is gone and it's all quiet for a change and we are picking up mess but notice the pool doesn't look nearly as good as it did before the party started. Is there a process that I should be doing other than just checking the chemicals to get things back in order. What I have done over the past couple of weekends is bump the SWG up to 100% for 5-6 hours to get the chlorine level back up. And I've also run the pump overnight to try and clear up the water as well with some success.
Is there anything that I need to add or not do to get the water back to crystal clear again?
Thanks in advance!