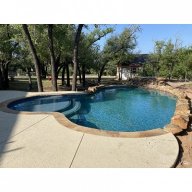 Jun 8, 2020
466
Pool Size

14060
Surface

Plaster
Chlorine

Salt Water Generator
SWG Type

Pentair Intellichlor IC-40
Our pool was filled on Aug 28th, and the Pentair VSF pump has been running 24x7 since. It was initially set to run at 2500RPM from 8am - 5pm, and then 1600RPM from 5pm - 8am. The waterfall is on it's an Aux circuit, and is set to operate the Jandy valve and run the pump at 2800 RPM when activated.
A few days in, I changed it up a bit. I set the POOL circuit at 1800 RPM, and set it to run 8am - 7:59am (so 24x7), then set the HIGH SPEED Feature circuit (2500 RPM) to run for only 1 hour in the morning (8am - 9am), and also set the WATERFALL Aux Circuit (2800 RPM) to run for 1 hour in the evening (7pm - 8pm).
This seems to work well for keeping the water surface skimmed, and for keeping the pH moving as I want it to (rising slowly, adding MA to lower, and getting the TA in line).
But now that the water chemistry is becoming stable, and I'm getting a handle on the maintenance ... I wonder if I really need to keep the pump running 24x7 anymore.
I'm thinking I need to balance the needs of the pool along with the cost to operate. So I checked out my power companies billing, and right now, I'm on flat rate billing plan:
I do have the option for a Time-of-Use power rate plan though, which I can switch to:
Thew power company also has a tool to analyze a home's 12 month consumption, and compare the flat rate plan to the Time-of-Use plan. For me, it's never made sense to switch, but that may change with the pool equipment
So if I were to establish a schedule for the pump, that is within the ranges of the Time-of-Use plan, what would be an effective speed and times for the pump?
Is running it at 1800 RPM a good "low speed" setting? It seems to skim decent at this speed (with my Paramount Venturi Paraskims), and of course, when it runs at 2500 RPM, the skimmers really kick up their suction. Or should I lower this back to 1600 RPM, or even something lower?
I know I also need to take into consideration the fact I will be enabling the IC40 in the next 3-4 weeks; so I need to account for the POOL circuit being run enough to enable the IC40 to deliver proper chlorine generation, as well as a proper flow rate to activate the flow switch.
Another piece I'm reading about is needing to account for proper run time and RPM to ensure effective water turnover.
The last thing I'll add is that the pool equipment is outside of our master bedroom's exterior wall. So when the pump is running at 2500 RPM, we can hear it when sleeping. So I'd like to refrain from running the high speed during the night hours.
So, I think the variables I need to account for are:
Pool water turnover
Power rates
SWG run time & flow switch
Skimming effectiveness
Noise levels overnight
As a new pool owner, trying to take all of this into consideration is a bit overwhelming, so I'm just looking for some input and advice on how to go about determining a good schedule.