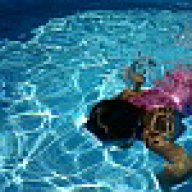 Gold Supporter
LifeTime Supporter
Well... so my CYA had gone down to ~20ppm due to backwashing and refilling. So, super confident me decides to raise it back to 30ppm. I calculate for it in Pool Math, measure out the CYA at 5.9oz (5.9oz dry volume is hard, so I just went with 6oz), put it in the sock and away I go. Laaa laaa laaaa... This was 3 days ago.
Squished the sock day before yesterday and it all dispersed. It is so soluble I realize I should have squished it the day before.
See how confident I am?
Decided to run a CYA test last night at dusk just because I can, I have tons of reagent. Darn if it didn't look like it was close to 50.
Fine, so maybe it's the wrong time of day and I'm really at 40. But that still seems off. I meant for 30ppm. OK, fine I'll run another in the sun tomorrow like I'm supposed to. Not panicking at all. I got this, I'm also going to dose from 5.5 to 8 FC and then test to see if maybe my volume is off. I've been using Intex's volume with a couple hundred gallons knocked off because I have a through wall skimmer and it's not full. I'm sure it's a little high, always have been sure of that but never checked adding vs testing with this pool yet. I figured, it's probably close enough.
Test tells me my volume is off. Raised FC 3ppm instead of the 2.5 that I wanted. I'll mess with that with the browser version of pool math tomorrow after I verify CYA. I'm thinking it'll really be 40ppm today so that volume discrepancy will explain it. I looked at my measuring cup and think I can't possibly have missed 1cup 6oz vs 6oz. I'm not that dumb and nothing was even remotely impairing me at the time. No distractions, no nothing. No, I'm
sure
I put 6oz CYA in. I even took a pic of the measuring cup for my own reference.
Come today, I re-run CYA and it's clearly 50. 40 is a hard sell, and only if I stare it down like I know I'm not supposed to.
I come to the unfortunate conclusion that if I run the numbers in Pool Math, it'll verify that the ONLY possibility is that I've added too much CYA. I am resigned to those numbers verifying it as I come in to play with the browser version. The pH decrease included in the calculations... absolutely verify that not only am I about 600 gallons off (too much), that if I plug in that I added 1c 6oz instead of 6oz that my CYA rise will be ~24ppm and pH will lower by .37. Which is exactly (with a margin of error) what happened.
Ugh. 50 is higher than I've ever run my pools. 20-30 is good in the Pacific Northwest, maybe 40 if we're having a hot one. It's hardly even summer here this year (yet).
My penance is admitting publicly at TFP that I fup.

An additional factor could be that since it's so difficult to measure CYA at 20ppm that I wasn't quite that low in the first place. Still doesn't account for a whole 30ppm raise, even accounting for the inability to read it accurately between 10s. I clearly measured improperly.
Last edited by a moderator: